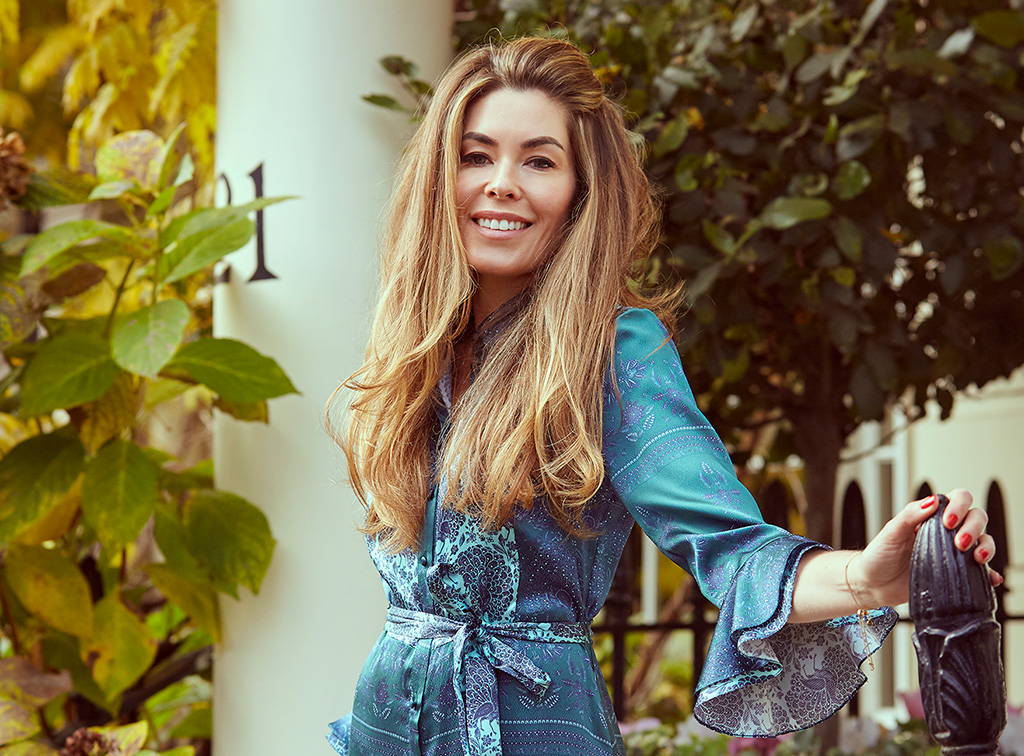 MY WEEK IN BEULAH
with Sophie Stanbury
Photography: Katrina Lawson Johnston
Sophie lives in London with her two young sons. She runs her own Interior business
Sophie Stanbury Interiors bringing her contemporary classic aesthetic to both residential
and commercial projects in London and the United Kingdom.
Aside from her Interiors business, Sophie is known for her role on the hit Bravo TV series
 Ladies of London in 2016. It is this role that has led her to gaining her fantastic online
community and she is proud to call herself a brand ambassador for several luxury brands. Sophie
believes that sharing her knowledge in interiors, beauty, fitness and fashion not only empowers
women but also gives them confidence. Sophie has gained a lot of experience in running a
successful business and juggling two little boys and truly believes it's how you feel
on the inside that leads you to the path of success. She also has her podcast "keeping it real" where
she and her co star Caroline share their journeys, top tips and inside scoop on real life challenges.
What do you consider to be your greatest achievement?
Without question this would be my 2 boys, Harry and Finn! There is never a dull moment with these two and its a total privilege to be their mummy.

What gets you up in the morning?
Normally Harry and Finn! But also running my own business – I'm on the go 24/7 so keeping myself well rested,
well exercised and on top of everything mentally and physically keeps me in good shape.

How are you finding juggling motherhood
and working as an interior decorator?

Its never straight forward but I try and keep to a regular routine, work starts after my workout and I cut off
at 4pmschool pick up so I get to cook, eat, do the homework and spend time together in the evening before
it's backto my desk once they are in bed to finish emails before I go to bed. I always try and get
a good 7-8 hours sleep which also really helps.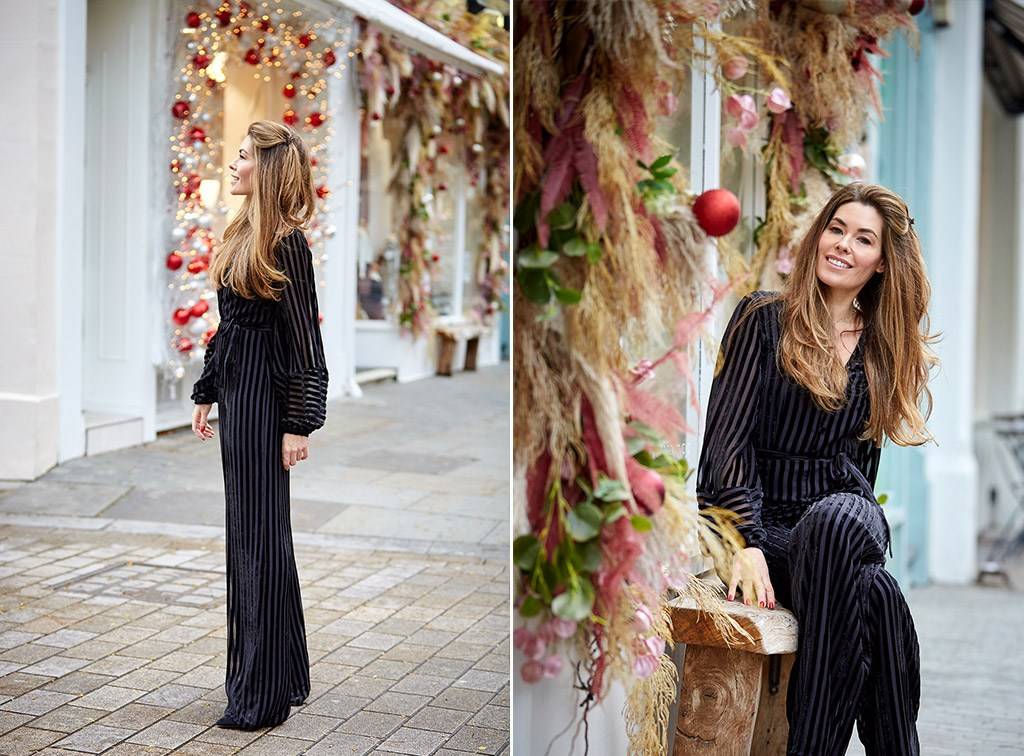 Aaloka Striped Velvet Jumpsuit
How do you manage to get a balance of home and work life?
By being very strict with my timing, meetings happen in the morning, then I like to action things
in the early afternoon before pick up and then once the children are in bed I can
follow up witheverything and make sure its all go for the next day.
How would you describe your personal style?
Modern classics with a bit of a twist.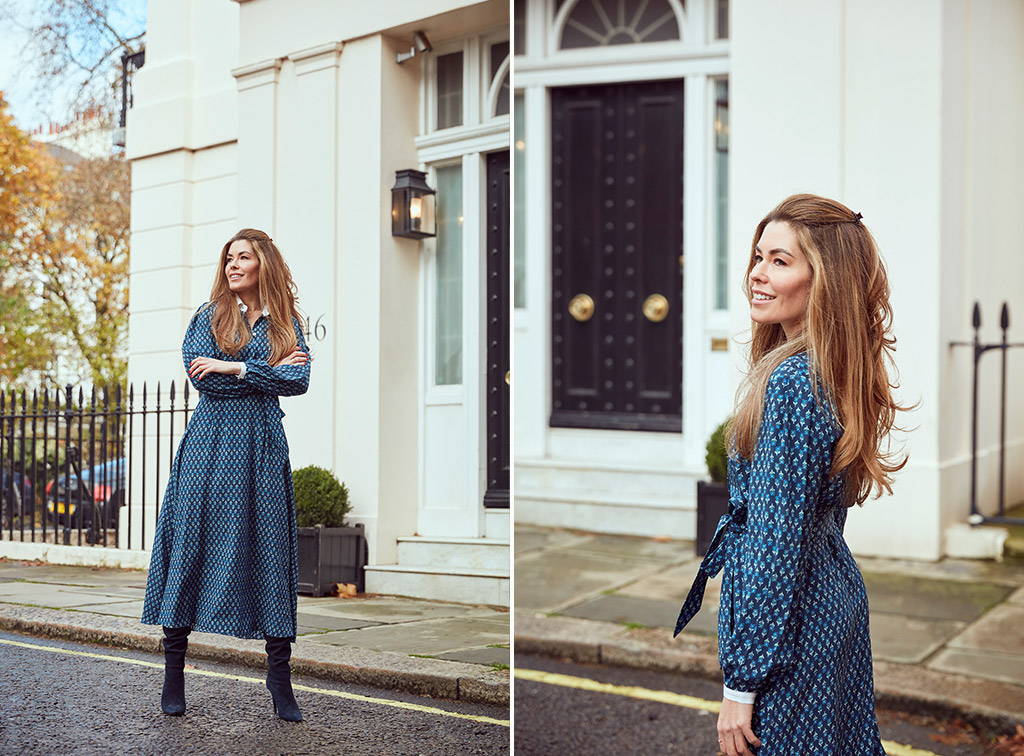 What is your secret to your gorgeous hair?
Weekly hair masks, not over blowdrying, looking after your hair is as important as your skin routine
so plenty of hair oils, masks, good shampoos and protecting it before you blowdry,
velcro rollers give the body when you are blowdrying and dry shampoo and heated rollers
between washes when you need to look glam.

What is your favourite piece in the Beulah AW19 collection?
The velvet dress in navy is a total winner – classic and beautifully cut, its so flattering and perfect
for the festive season but also loving the cashmere which looks amazing
with jeans and boots and adds a touch of glamour to a simple outfit.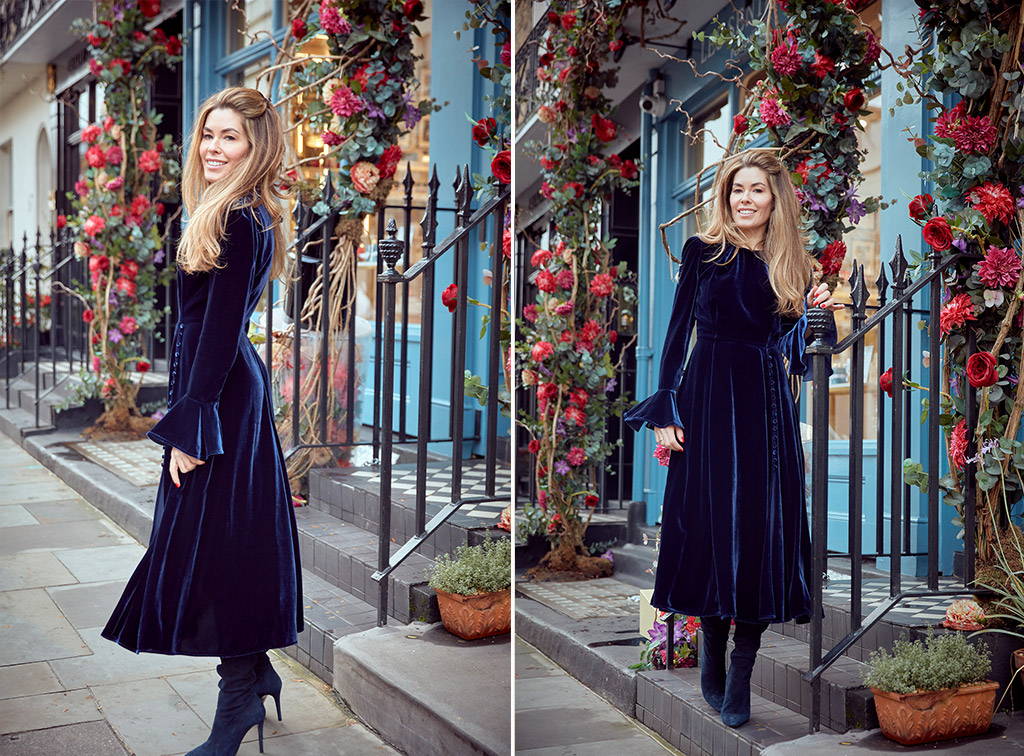 How do you celebrate women in your life?
Its important to give yourself credit, give yourself a break, have your head space and down time – theres a lot
to manage as a single mum and being the best you means taking care of yourself,
surrounding yourself with good people and enjoying yourself too!

What do you do to feel empowered?
I've really focused on growing my business, which comes with confidence, self belief and not giving up.
I feel proud of where I've come and I'm excited for what the future holds. Its empowering
to look back at your journey and see how you've got to where you are.
Always aiming higher and reaching for those goals you set.
What particularly inspires you about Beulah's social impact mission?
Freedom is our biggest gift and being able to help those who are trapped in modern day slavery by raising awareness and funds is an extremely important message and cause and one I wholeheartedly support.
Follow Sophie on Instagram and head to her website and blog www.sophiestanbury.co.uk
where you will find her top tips on decorating and interiors, fashion, beauty & fitness and her passion for cooking.

For vulnerable and trafficked women. Our aim is to enable them to live in freedom

We're creating a sustainable, commercial, and creative vehicle that will provide an alternative livelihood to these women. We do this by providing meaningful employment to women who craft our products, and we also donate 10% of our profits to charitable causes.

We are currently working with
Who are joining us in our cause to empower women through the business of fashion.