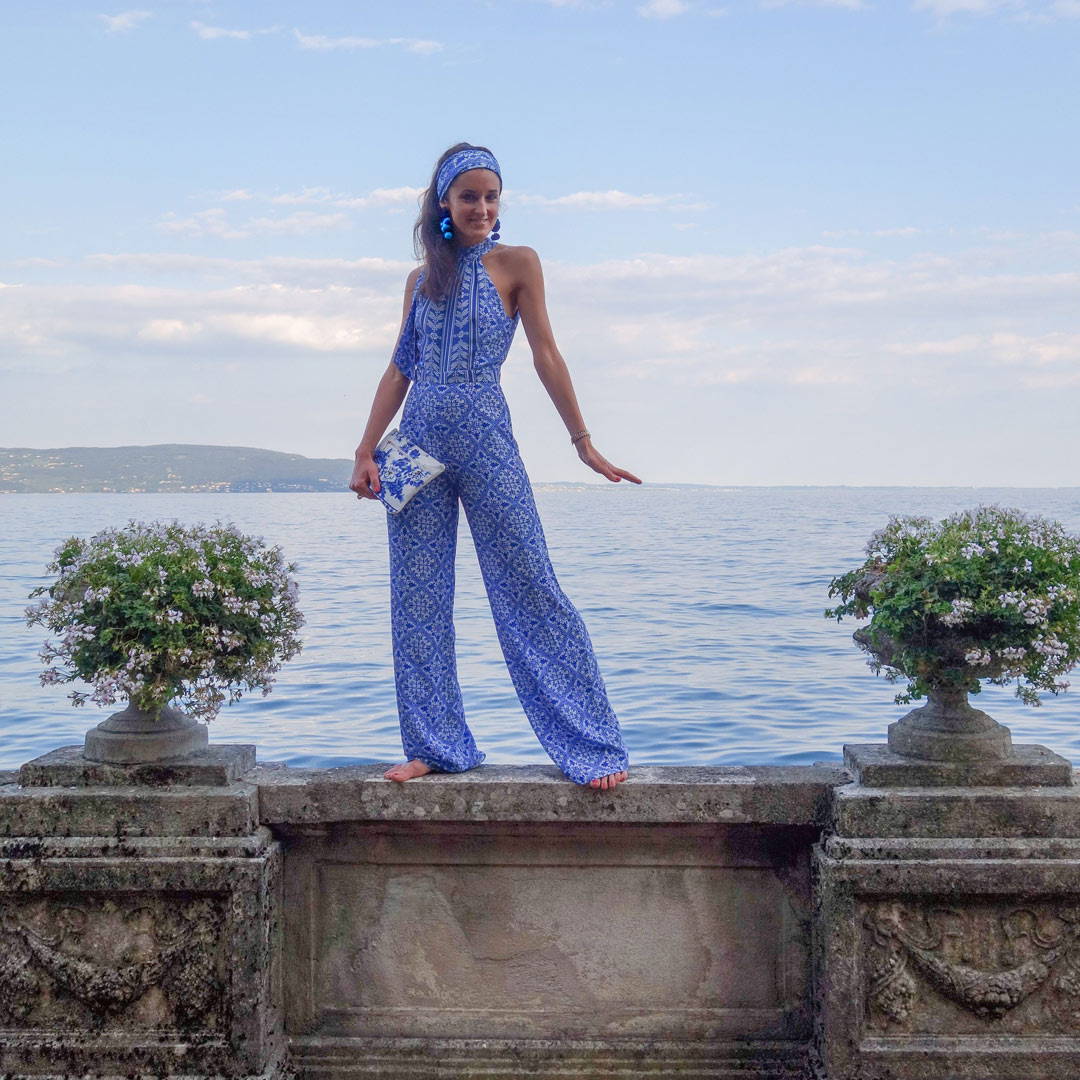 My Week in Beulah
WITH ROSANNA FALCONER

Rosanna is an award-winning digital strategist with 11 years' experience in the fashion industry working across
digital, communications, events and licensing for brands including Matthew Williamson and the British Fashion Council.
She launched the digital strategy of both companies. Today she is a fashion consultant as well as running FashMash,
a speakers series and networking group that she co-founded in 2012 to unite the fashion and tech communities.
It has over 500 members globally.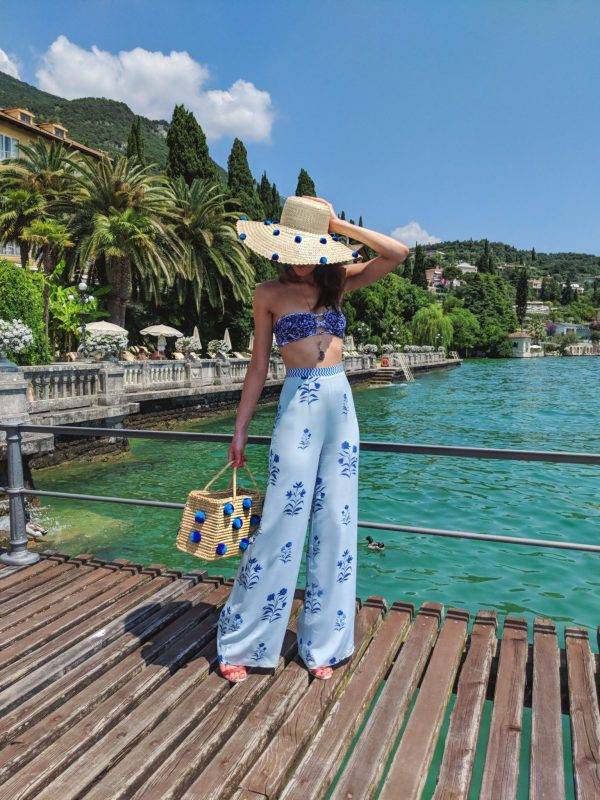 Manisha Palazzo Trousers worn with Paolita Beach bikini, Nannycay hat & bag and Chloe shoes.
who is your biggest inspiration and why?
I've been lucky enough to be mentored by leaders in the industry: Caroline Rush, CEO of the British Fashion Council is a remarkable woman. She taught me a huge amount about brand building and diplomacy. Matthew Williamson has always been my favourite designer, right from the moment I saw Jade Jagger and Kate Moss on the cover of The Times in his debut London Fashion Week collection. It was a dream come true when he approached me to launch his digital strategy. I am inspired by his incomparable approach to colour and that inimitable bohemian glamour of his. Now that he has transitioned into the world of interiors, it is a joy to see him apply this creativity to a new area and continue to consult for him. Likewise, his co-founder, Joseph is an outstanding business man. He always finds solutions, listens to diverse opinions and concludes any decision. All three of them share one quality: huge love and passion for the job that they do.

what is your favourite flower?
It's a close call between my namesake, the rose (fresh ones from an English garden in June!)
and the ranunculus. The latter, often seen as mini peonies, have the most vivid colour
spectrum and are in season just at that point in the year where it feels like nothing will ever
flourish again. Both were embroidered by hand on the lace of my wedding dress.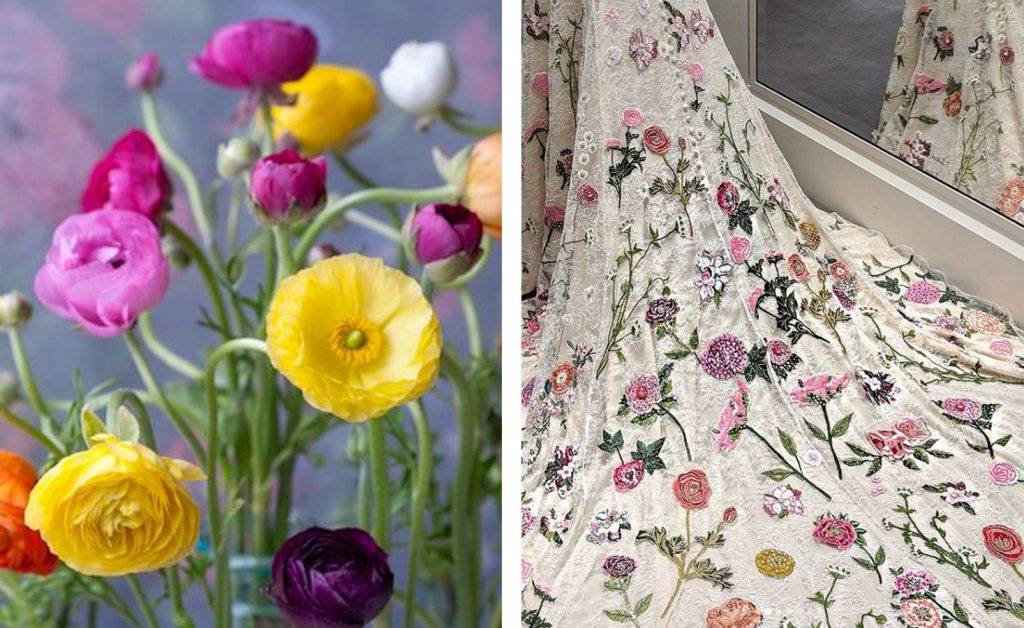 HOW WOULD YOU DESCRIBE YOUR PERSONAL STYLE?
I would say I'm unique in my style: I embrace colour, print and maximalism.
Never ask me thequestion, "is this too much?" Inevitably, my answer will
be "no!" I'm always the one encouraging friends to wear
brights in winter and floor-length by day.
What is your favourite Beulah piece this season?

The Prisha dress has the wow factor. It's one of those 'stop you in the street' dresses.
Whenever I wear mine, women and men alike want to know where it's from. I love its maxi
length and full sleeves… Both give it a tone of summer ease but then the button-down style
means you can show a flash of tanned leg too.

TELL US MORE ABOUT YOUR COMPANY, FASHMASH...
It is a global community uniting pioneering minds from the fashion, digital and technology
space since 2012. I founded it with Rachel Arthur, a journalist by background, specialising in tech
and innovation in retail, while I came from a brand perspective, so we both brought insight from two
sides of the industry. Today, it is comprised of over 500 leaders across retail and luxury brands
as well tech companies and digital start-ups. We host highly-curated
networking events, to encourage open conversation and sharing of ideas between these
integrating worlds. Membership is by invitation or recommendation only.
The network itself is exclusive, so we were keen to open up the conversation to junior members
of the industry and a wider public audience. With this in mind, we launched our speaker series this year.
FashMash Pioneers is an annual programme of talks featuring the world's brightest minds dissecting
the future of fashion. The monthly talks aim to inspire the community and nurture the next
generation of industry talent. Speakers so far have included the MD of Farfetch's Store of the Future
and H&M's Head of Sustainability. Next month, we will be joined by the MD of IBM
to discuss blockchain's application in the fashion industry.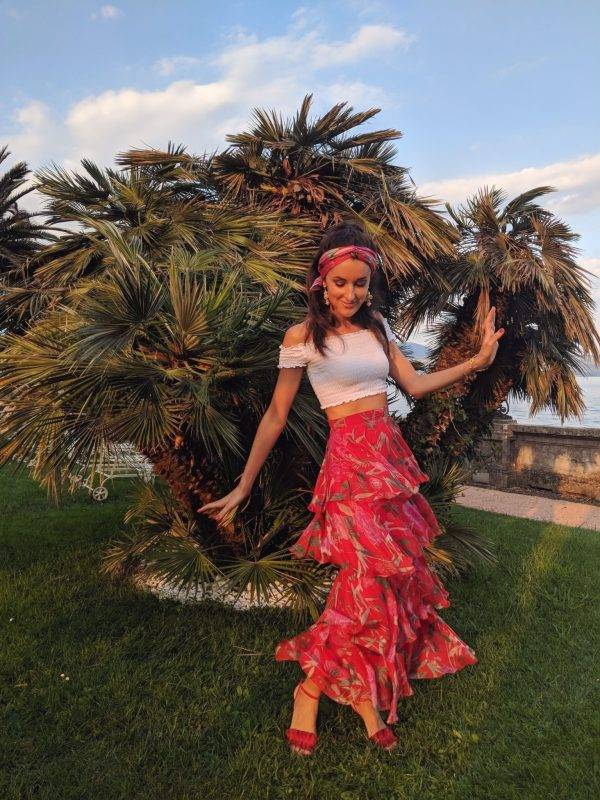 Seren Skirt & Sita Silk Scarf worn with Soru Jewellery Earrings,
Vintage Crop Top and Jimmy Choo heels
What drives you most in the work that you do?

I began my career just in time to witness and lead the digital revolution in fashion.
I became fascinated by tech's possibilities for the industry. Fashion is an industry renowned for its obsession
with the new and the next, yet it is one of the most resistant to change. Being able to develop and spearhead
this challenge within brands – and see how it affects the entire company's mindset
as well as retail targets – has been a privilege.

What do you consider your greatest achievement?

Winning Drapers 30 under 30 award which recognises the next generation of talent in the fashion
industry was quite an accolade, as was being featured in The Drum's inaugural Digerati alongside
Natalie Massenet and James Hart – a list of 100 individuals setting the digital agenda. But really,
it's a joy every day to work in the fashion industry, and to call myself part of it.

Where's the best place to eat/hang out in London?

For me, it's got to be either end of the spectrum. So either super relaxed with closest friends
locally or 'out out' somewhere that drips with glamour. For the latter, it has to be Annabel's.
I think it has that 'Breakfast at Tiffany's' power – all is well in the world the moment you
are greeted by the charming doormen and enter its opulent interiors. From the De Gournay paper of the Elephant Bar
to the rose-festooned ceiling of the girls' bathroom, it's exceptional. But the defining factor for me
is the service: the staff all know my name and not only my favourite drink (margarita)
but how I take it (straight up, extra salty). For a more relaxed night, perhaps the day after partying
the night away at Annabel's, I always love Gustoso. AA Gill always said the best restaurant
was unique to each person – it was that place near their house that they visit once a week, know the menu
by heart and receive a warm welcome. The pasta beats even the finest
I have tried in Italy – from Bologna to Puglia, I've tried it all!

Most of all, when it comes to eating, my favourite thing is gathering friends and squeezing
them into my tiny flat for dinner. I hold dinners for 12 every month, theming the table, menu and dress code
– from Mediterranean Midsummer to Valentine's in Versaille. It began as a new year's resolution in 2017,
but it's become a regular fixture in my life (pausing only the month of my wedding!). I love to introduce friends, attempt
to match make and go wild creatively with the table setting. It's brilliant to see the relationships that
form – from a gardener now working on a book with an editor friend to a florist now collaborating
with a set designer. And then of course there are the romantic ones…!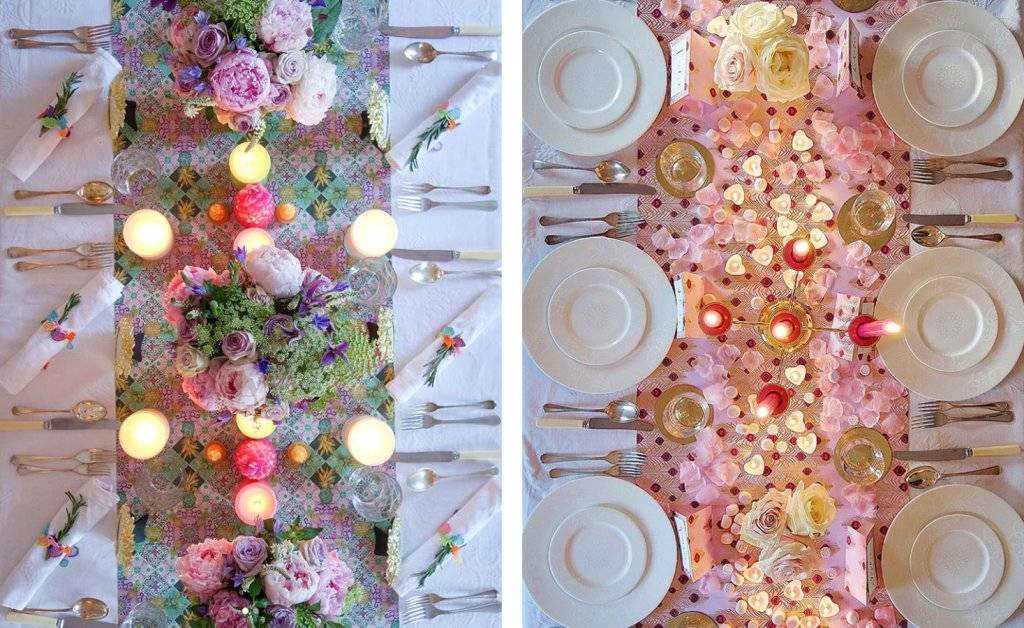 What is the best city you have been to?

I think it has to be Rio De Janeiro. I had the most incredible 24 hours there with Matthew and Joseph.
From dancing late with caipirinhas to a whistle-stop tour of the city views and beaches.
Samba-like rhythm and fun run through the city's streets!

If you had to live in another country,
where would you move?

I'm sometimes tempted by New York – I love its energy and ambition. As a country, nothing beats Italy for me:
from the weather to the fact you can find exceptional food in a tiny village trattoria. But really,
I love London and England far too much. I'm not going anywhere.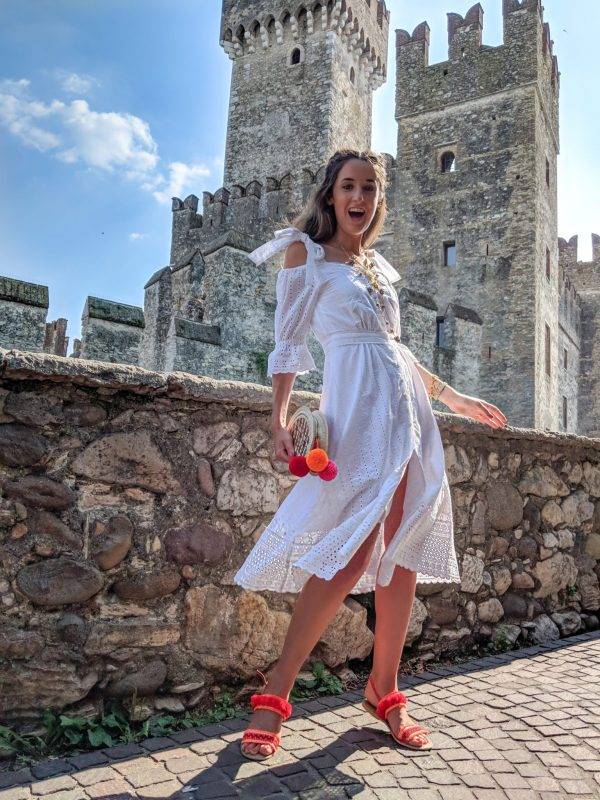 Ahana Broderie Anglaise Dress worn with
Soru Jewellery necklaces and Jigsaw sandals

which words or phrases do you most overuse?
Any superlative! I'm an enthusiastic person, plus a chatterbox,
so my speech is always punctuated with lots of positive adjectives!
WHERE AND WHEN IS YOUR NEXT TRIP?
I'm off to Sardinia next week for a week on the Costa Smerelda with a dear friend who is a
bespoke jeweller, Kinvara Law. She designed my engagement ring. Her designs
are often influenced by the sea and marine life so it will be an inspiring trip.
Plus nothing beats the gelato, azure blue sea and rugged landscape!
If you could swap wardrobes with anyone
who would it be?

Talitha Getty for being the founder of bohemia; Marie Antoinette for the tulle
and jewels; Carrie Bradshaw in Sex and the City Season 4 (those crop tops!);
and finally Crocodile Dundee's Sue Charlton to sex it up a bit. Just don't
combine those wardrobes at the same time!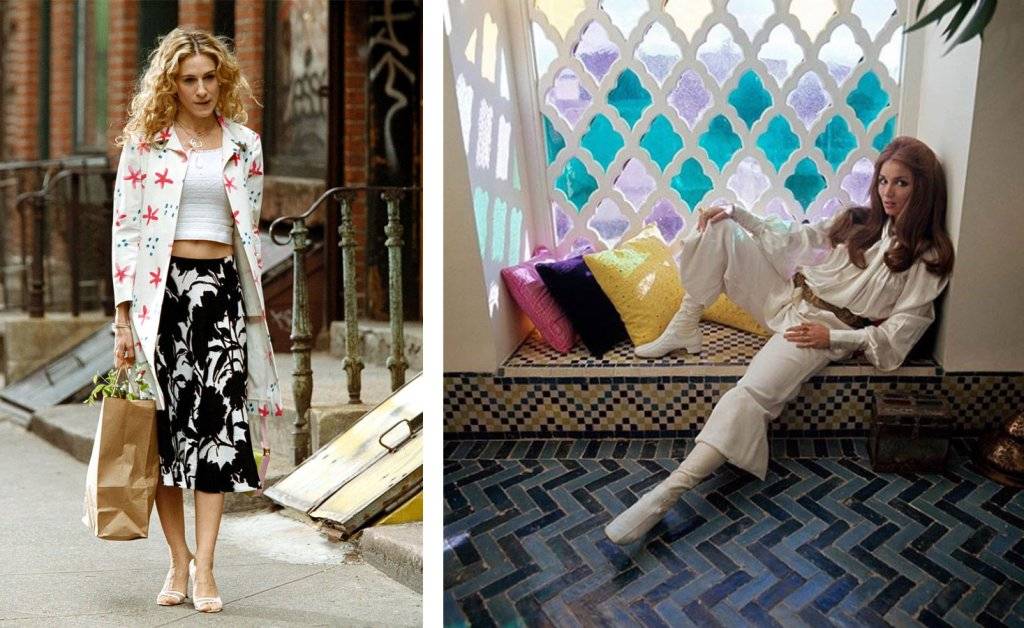 WHERE DO YOU LOOK FOR FASHION INSPIRATION?
Ever since I started my career at the British Fashion Council, I have loved how the emerging British designers push limits and make you lust after a style you never quite thought could work. Yet in their skilled hands, it's magic. Right now, I can't get enough of Halpern's intoxicating maximalism. I bought a high neck top of his for my hen party (well, it was a peacock party, of course). It dripped with sequins in all shades of peacock and I wore it with VERY short black shorts (if you can't on your hen night, when can you?). It was a big investment, but worth every penny, I felt my best possible self and so confident!
For vulnerable and trafficked women. Our aim is to enable them to live in freedom

We're creating a sustainable, commercial, and creative vehicle that will provide an alternative livelihood to these women. We do this by providing meaningful employment to women who craft our products, and we also donate 10% of our profits to charitable causes.

We are currently working with
Who are joining us in our cause to empower women through the business of fashion.