My Week in Beulah
with tamara & anouska beckwith


Photography: Katrina Lawson Johnson
Location: The Hari, London
To celebrate mother's day, Beulah sat down with Tamara and Anouska Beckwith. Tamara, a mother of three precious children, Co-Founder of The Little Black Gallery, Co-Founder of The Lady Garden Foundation, and wife of a deeply passionate Italian man. Anouska, a fine art photographer and multi disciplinary artist, spent years based in Paris honing her craft and is currently based in Somerset with her daughter Luna and partner Luke.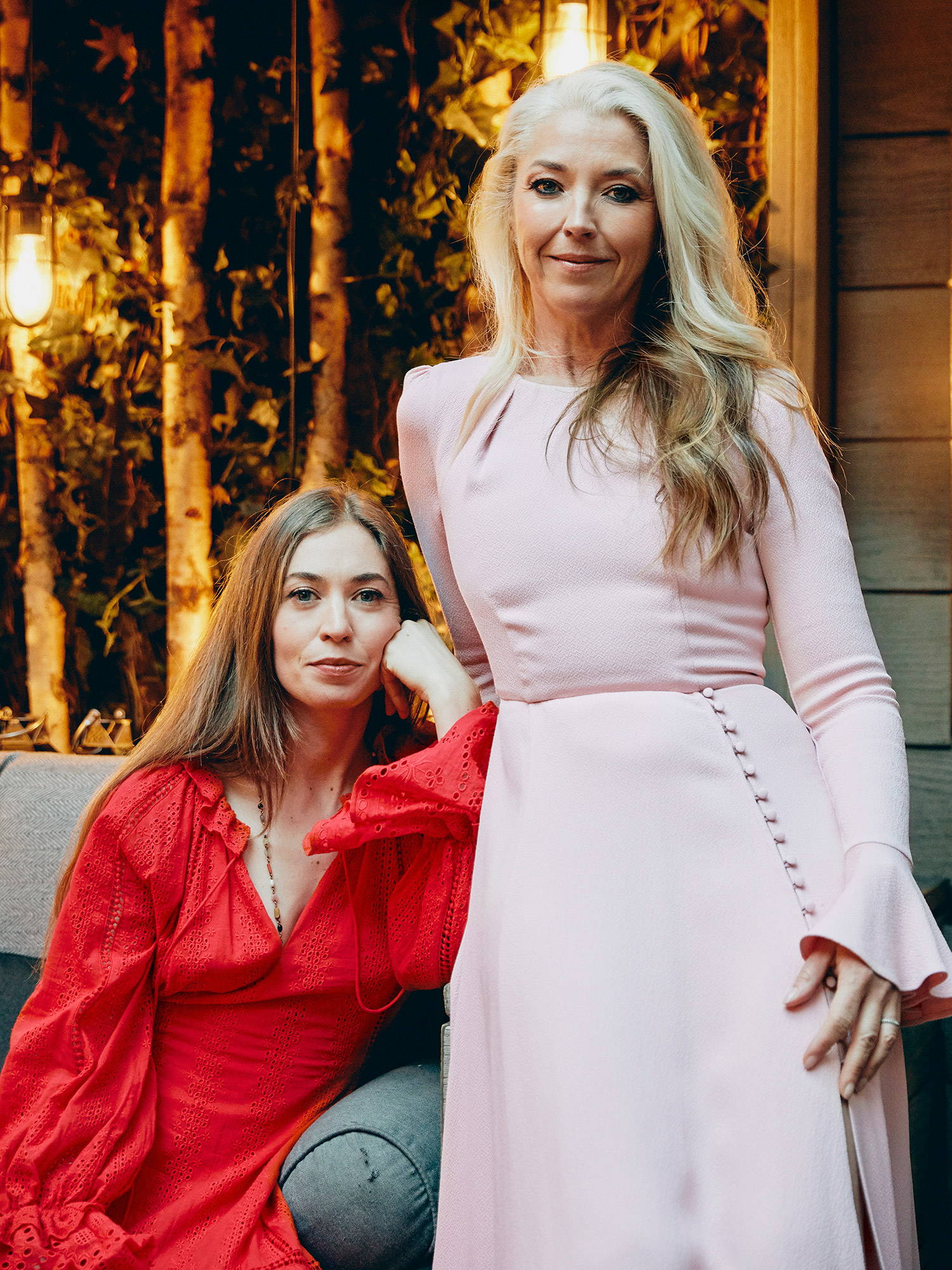 What do you consider to be your greatest achievement?

Tamara: My biggest achievement is my family. I think I have learnt a lot on the job and Anouska has been on hand to give me lots of advice.. All the other things are great and help make me feel valid but knowing my children feel loved and cared for is my No 1 priority..
What are the biggest challenges you have faced and how did you overcome them?

Tamara: Luckily I am a huge optimist.. I can feel a bit blindsided but on the whole I feel capable to push through.. I am incredibly lucky to have a wonderful husband who does support me at all times, well pretty much! Then I have phenomenal girlfriends.. they know who they are and are always checking in, touching base so to speak and I can rely on them 1000% - I have always been blessed with great girlfriends.. I think I know how to spot one...
How would you describe your personal style?

Tamara: Well my style can have quite a large swing to it.. Sometimes I am super on it and very sharp, in heels, narrow trousers and a shortish jacket and of course a medium size day bag..Other days if I am just being a Mummy on the Run I am in my range of camouflage & khaki ensembles.. I seem to have a whole shelf of these.. Great cashmere jumpers that pop over a T-shirt and then some sneakers… it's more my Private Benjamin look..Then my favourite look I guess is dressing up! I am full on Girlie in this department and love bows, ruffles, shoulders and of course marabou! So I can really do any of the above and feel very much myself..
Anouska: I am romantic by nature, an aspect of my self, which is reflected in my work, my personal style and my home. I am not a modernist nor a minimalist and like objects or clothes to tell a story. My style ranges from Victorian, 1920's to 1970s depending on what mood I am in.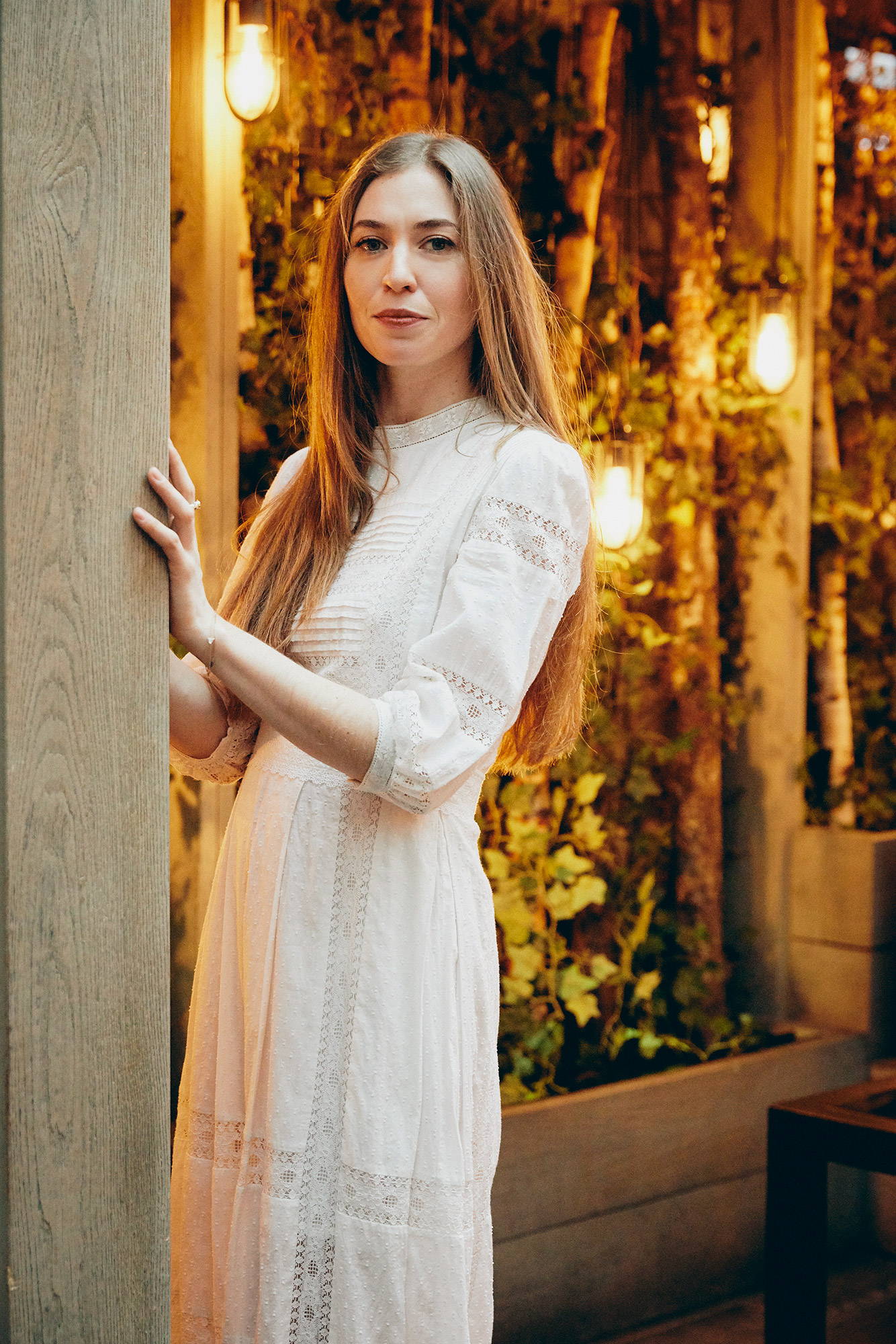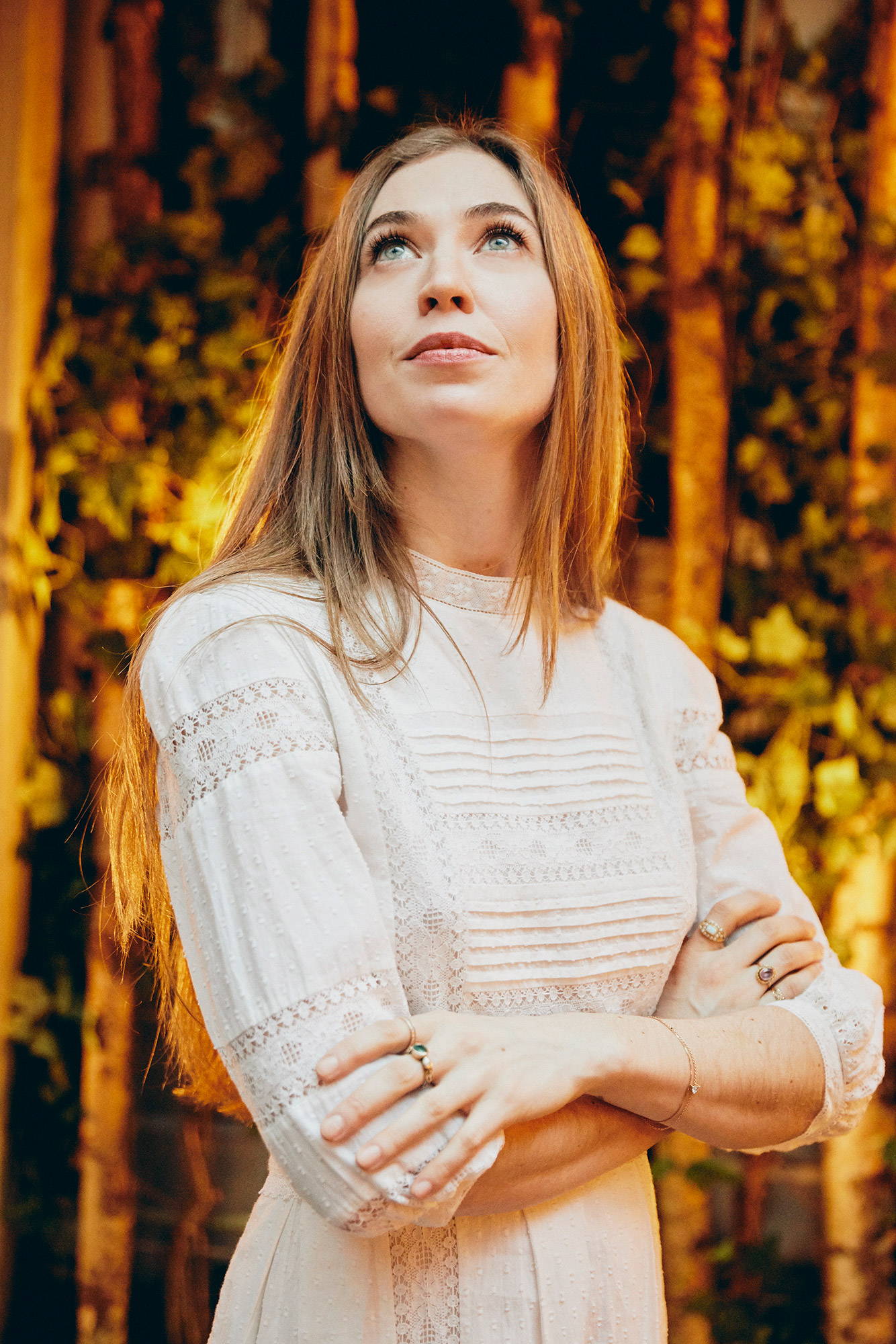 Sonia Cotton Midi Dress (coming soon)
Anouska, tell us a bit about your work as a photographer and multidisciplinary artist?

Anouska: Ever since I can remember I have been a disciple of Mother Earth. The work I am called to create has always been deeply rooted in respect of Nature . My work is a prayer - an offering of gratitude to the Earth.I view the feminine as a gatekeeper between different realms and so my subjects tend to be women. The themes that inspire me and that are woven throughout my work are: the cyclical nature of Life and Death; transformation; and metamorphosis. I find transformation a subject imbued with wonder, awe and mystery.
How have women inspired your career beyond the lens?

Anouska: I am captivated by the ethereal aspects of the Pre-Raphaelites and often set my spirited female figures against stunning natural backdrops to create a tranquillity and arresting aesthetic. Throughout history women have been a focal point in Art, but for my personal work I think 'she' represents the untold stories in history. I like looking for the vulnerability, the softness and beauty which women inhabit, as well as their strength and sexuality.
What are some of the challenges you've faced as a woman in your industry?

Anouska: I am often asked to do things for free, I do not think it has anything to do with being a woman but more to do with being a creative. Our work is not given proper value which can be highly frustrating and in my opinion is unacceptable as people need to respect that artists need to make a living.
What advice would you give aspiring female artists?

Anouska: Always follow your instincts when making decisions. Embrace your uniqueness and do not worry about failure as failures can often be blessings in disguise.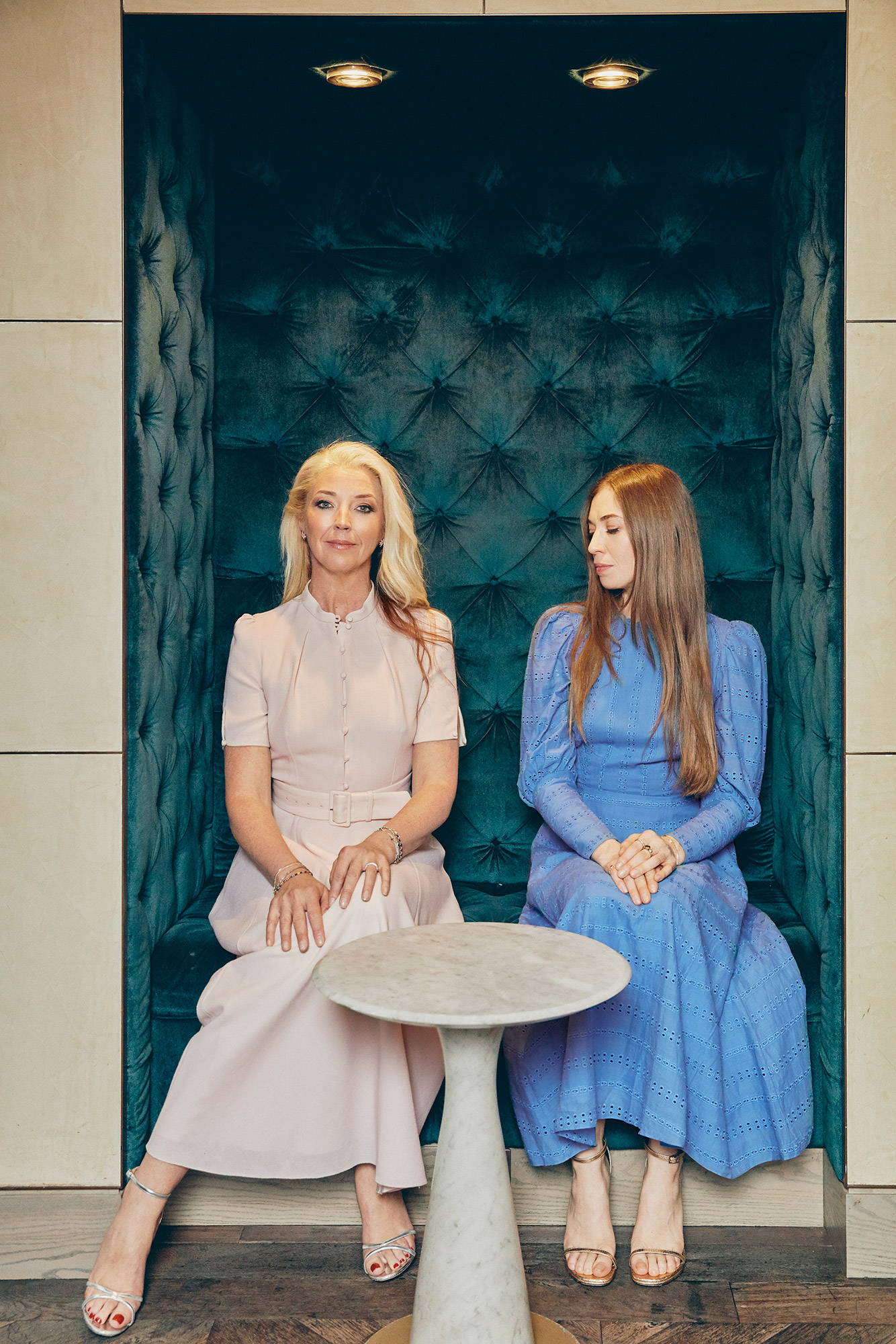 Tamara, describe to us your role as a contributing editor for Hello! magazine, what was it that drew you to the role?

It's a magazine that has been incredibly supportive of me and all my many work projects over the years..I love Fashion and I love people - when I started creating my own Shoots for the magazine i just loved every aspect. Putting the dream team together and then the actual shoot day and then writing up the interview.. All in all one of my favourite jobs ever.. They often have to close their eyes and hope for the best! But its been quite a few years now so hopefully they trust me!
You've been on multiple television programmes throughout your career, what continues to inspire you about reality television?

Tamara: Very rarely do I think ooooh that appeals to me.. However I like to learn new things and I am such a novice at so much so if the offer is something I would never have had the opportunity to try then I am in.. like a flash…
Where do you feel most at home?

Tamara: I Love London and even with what is going on right now in the world [with Covid-19] I feel very comfortable to stay put..I love Italy and having my parents in law there means we go a lot… My younger children are bilingual so life is very much between the two countries.. We all love Italy and feel it was definitely blessed in the beauty department..
Anouska: I feel most at home in Ibiza as I have been going since I was twelve and it always feels difficult to leave. Over the years I have made many beautiful friends there and hope one day to live there permanently.
What is your favourite piece in the Beulah Spring 2020 collection?

Tamara: Beulah's collections are always gorgeous and feminine.. I think I rather liked the Pansy PJ suit in the sage that I wore.... I think the dresses are fabulous and fit like a glove.
Anouska: I adore the white lace dress (need you to fill in name) as it fits like a glove and very much reminds me of an English summer from the Victorian era. The lace work is very delicate and the cotton extremely light.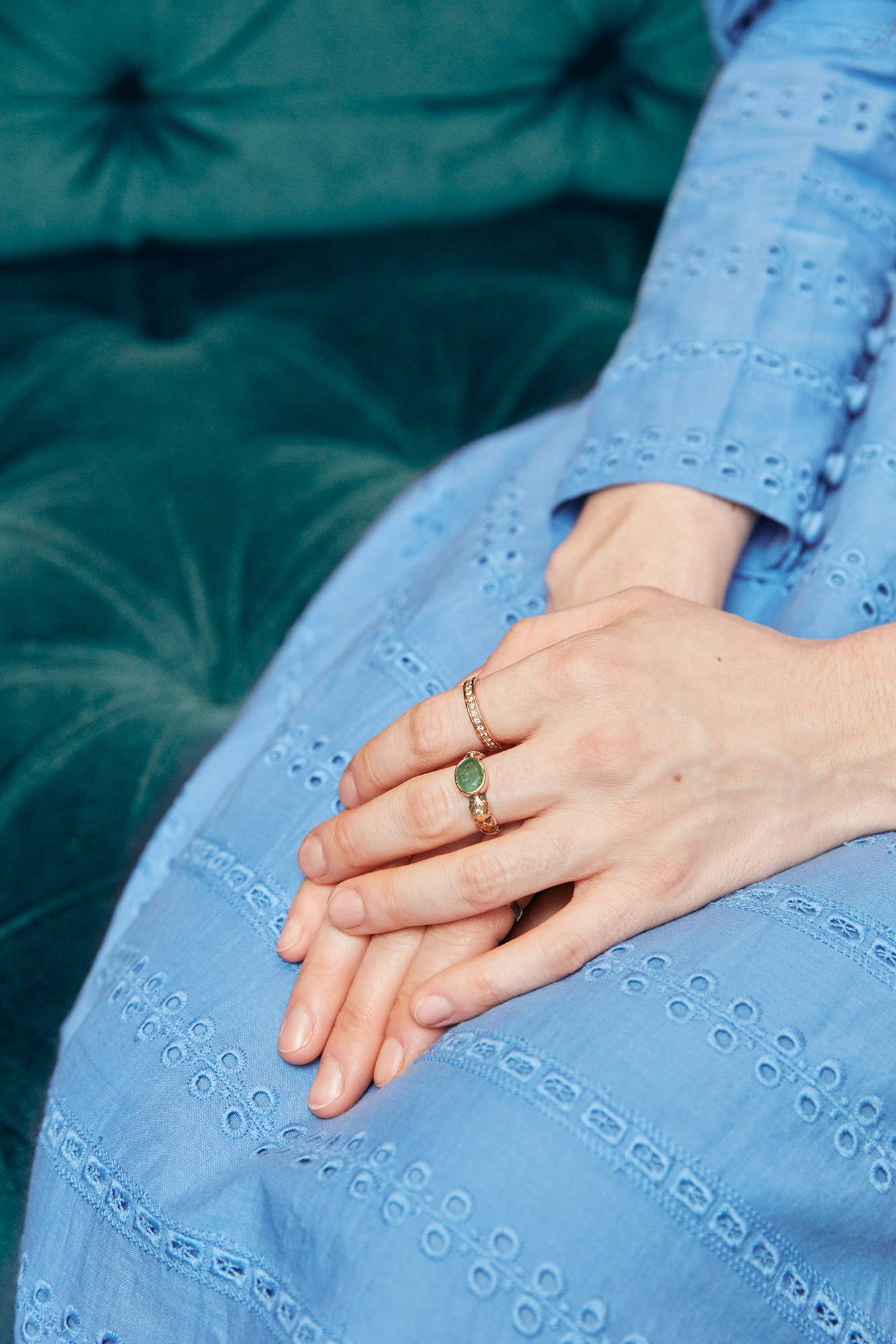 How do you celebrate women in your life?

Tamara: I am not a feminist per se like Anouska - I feel Women should have equal opportunities and equal pay and I really admire my girlfriends who are hugely brilliant CEO's but crunching numbers and running large teams of workers isn't for me. I like to tell them how clever they are and I am super proud of them but no desire to trade places.. All the Girls in my life are exceptional in their own way - I wouldn't like them if they weren't in some way unique...
Anouska: I am part of a moon circle that gathers every month and we celebrate women by coming together, embracing one another and sharing our lives with each other. We make delicious food, cacao and tell life experiences to one another; afterwards I find myself walking away feeling held, supported and understood by my sisters.

What do you do to feel empowered?

Tamara: I must admit I feel empowered in my role as a Mother and being in charge of protecting my young until I can pass the baton over..
Anouska: I love to dance so anytime I am feeling off balance or simply when i just wish to feel completely free of any thoughts I put music on and dance in my kitchen, living room or bedroom. I have already taught my daughter the joy of dancing as I danced a lot during my pregnancy, labour and since she was born. The moment I say "music" she starts to dance.
What particularly inspires you about Beulah's social impact mission?

Tamara: I think just making it happen is brilliant in 2020.. To have a great idea is one thing but then to implement it is truly genius. The Freedom they are helping these women and girls achieve is utterly remarkable.. I cannot imagine a life stuck in slavery and therefore anything we can all do to help is a must.
Anouska: I am feminist and am deeply passionate about women rights and the history of female repression. Therefore to discover that Beulah's mission is to empower and encourage these incredible women who have been forced into slavery and are in the process of recovery and they are given the opportunity to make a real life for themselves is a wonderful thing.

For vulnerable and trafficked women. Our aim is to enable them to live in freedom

We're creating a sustainable, commercial, and creative vehicle that will provide an alternative livelihood to these women. We do this by providing meaningful employment to women who craft our products, and we also donate 10% of our profits to charitable causes.

We are currently working with
Who are joining us in our cause to empower women through the business of fashion.