IN CONVERSATION WITH
Liz Earle
Editor-in-chief, wellness entrepreneur and beauty expert
Photography: Katrina Lawson Johnson

Words: Sarah Mills
On International Women's Day, as women's achievements are celebrated and the message of female empowerment and gender equality is spread across the world, we're thrilled to be launching our In Conversation With interview series. Released quarterly, our interviews will celebrate and share insights from the lives of trailblazing entrepreneurs, activists and women carving new paths from fashion and wellbeing, to the environment and philanthropy, uncovering how we can all live more consciously within these realms. The thread is each interviewee's alignment with our mission for social justice and our aim is to entertain, empower and inspire you to join our journey of creating positive change in the world.
Our first guest for this special edition published on International Women's Day 2020, is longtime supporter and friend of Beulah, Liz Earle MBE. When it comes to advice on entrepreneurialism, beauty and wellbeing, who better to turn to than Liz? From co-founding the leading beauty brand that carries her name, to launching Liz Earle Wellbeing, a quarterly magazine focused on food and living well, Liz is known for her passion for natural health as well as her considerable charity and campaigning work. Liz received an MBE in 1997 for her outstanding services to business, having dedicated her career to sharing trusted wellbeing wisdom with her audience. She is the bestselling author of 36 books, an established TV presenter and the ultimate botanical beauty authority. A mother of five, Liz divides her time between London and her pasture-fed organic farm in the West Country where she is mostly based. On a rainy day in March, we headed to Liz's cosy south London publishing studio to discuss her multifaceted career, her take on balancing work and family and to hear her wellbeing advice for women everywhere; from the importance of the "five K's" to the transformative power of sleep.
This interview has been condensed and edited for clarity.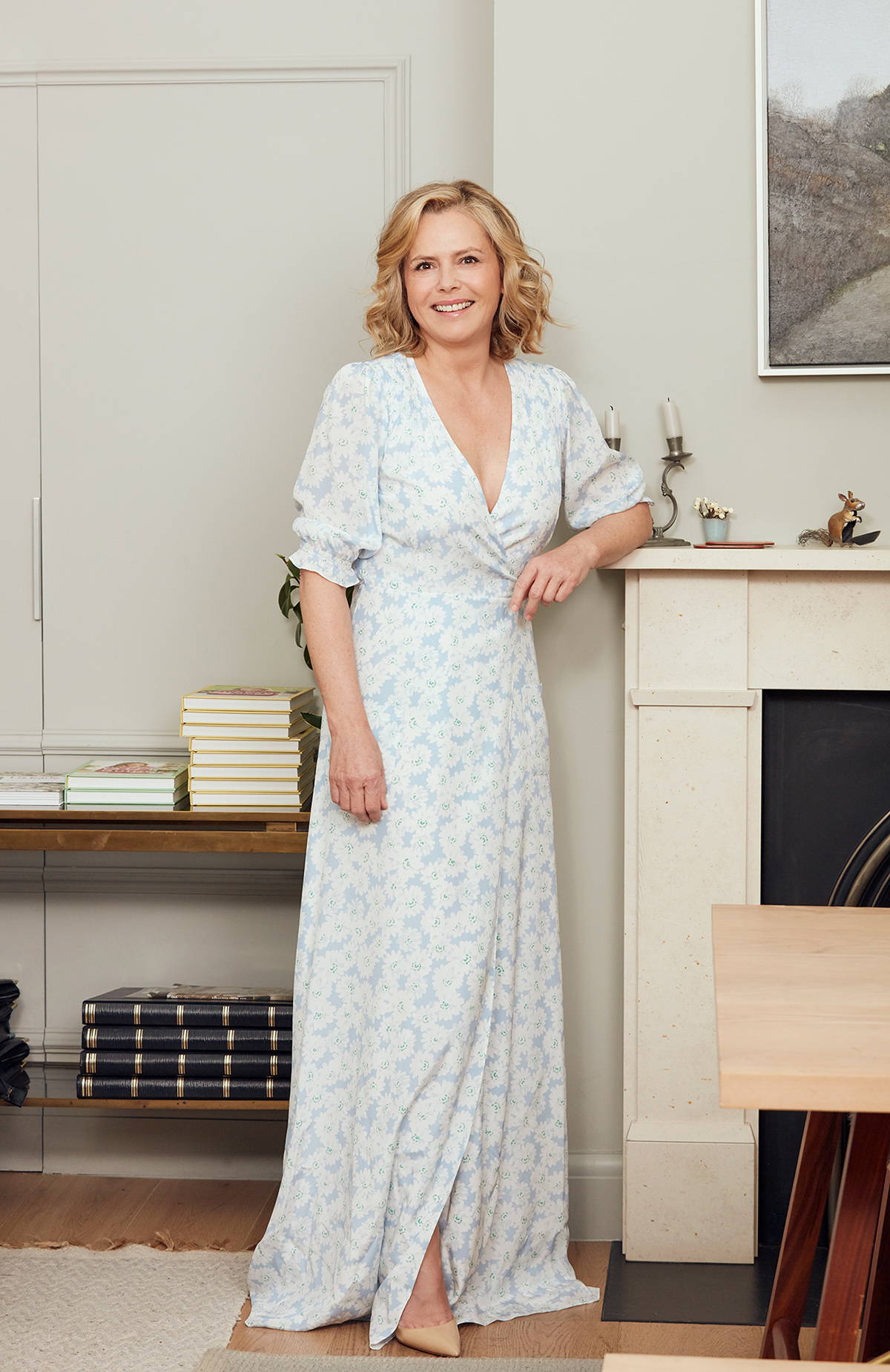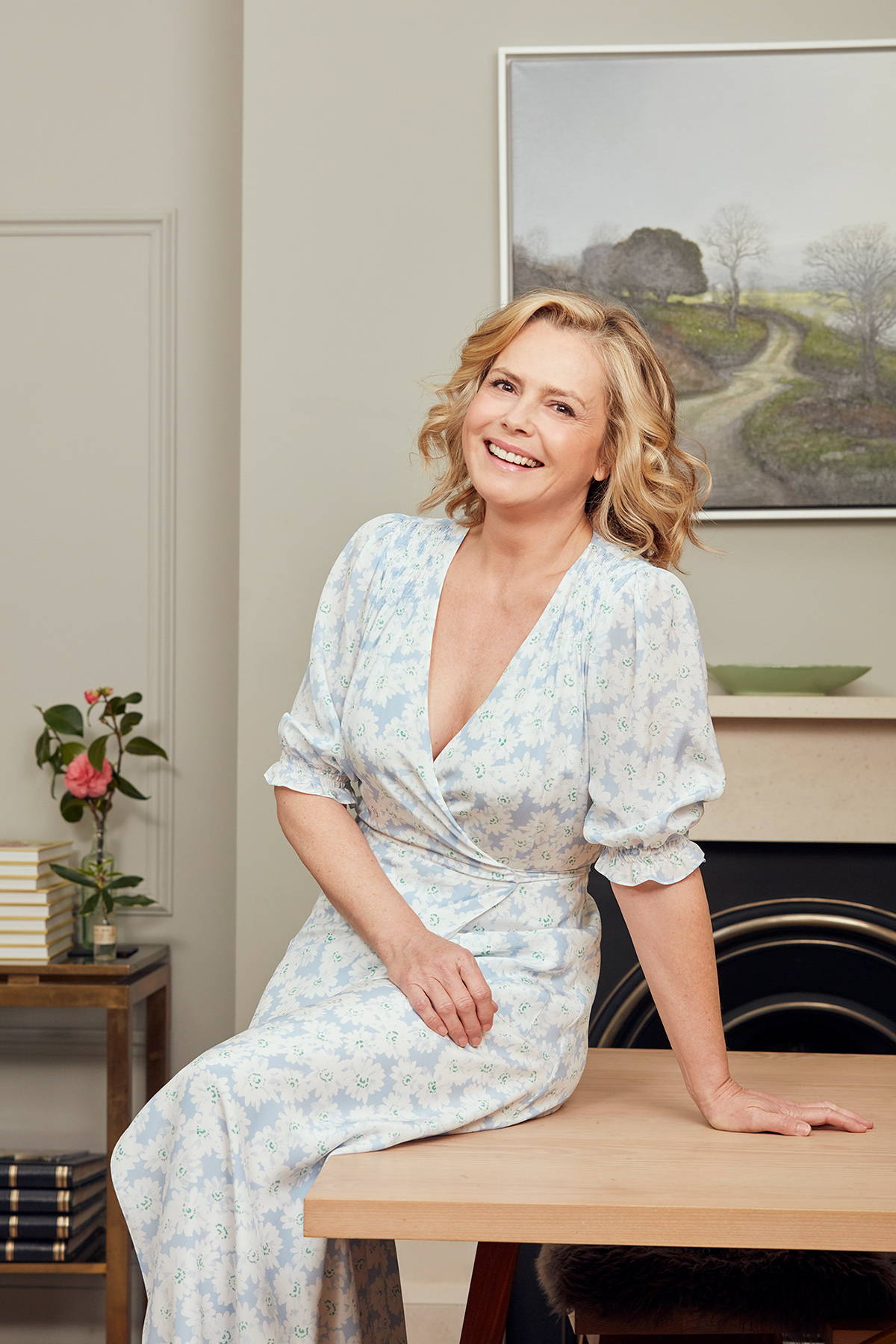 Starting at the very beginning, where did your interest in botanicals and skincare begin?

My father was a very keen gardener, the garden was his refuge and sanctuary after returning home from his time as an Admiral in the Navy. A very practical man, he loves plants that serve a purpose; growing green beans to eat or flowers that have a great smell. When I was growing up I spent a lot of time hanging out with him in the garden and consciously or not, I absorbed his knowledge and appreciation for plants, nature and botanicals. My belief in the potent power of the naturally active ingredients in botanicals has carried through into my adult life.
Describe your career journey and how you moved from starting out in writing and broadcasting to launching your phenomenally successful skincare businesses and eventually coming full-circle as Editor-in-chief of your eponymous magazine.

My first job was as a junior writer in the beauty department of a magazine called Woman's Journal. Back then, health and beauty were only just starting to be linked together and my job was to interview the nutritionists and complementary therapists starting to emerge in the health and wellbeing space. Having this opportunity was a major lightbulb moment for me. I became completely fascinated by the knowledge that the way we live and the foods we eat can have such a profound impact on making us look and feel better. This is also where my passion for research and writing began and where I learned the importance of making sure the information I shared was evidence based and grounded in science.
I moved from writing for magazines to writing long-form and publishing my first few books. I started to develop a bit of a name for myself as a specialist in health and wellness and it was from here that I received an unexpected phone call asking me to be a contributor on This Morning on ITV. This was the opportunity that really launched my TV career but at the time I didn't expect it to lead to very much. I ended up staying with Richard and Judy's team for four years before moving to the BBC where I was given my own show, Beautywise - the first ever beauty programme on UK network television.

It was around this time that one of my girlfriends, Kim Buckland, suggested starting a skincare line to compliment my broadcasting work. At first I thought it would just be a small sideline project that she and I would do together, but the reality was very different! Founding the Liz Earle Beauty Co was like stepping onto a fast train; once you're on it you can't get off very easily - it just took off and we ended up becoming one of Britain's biggest independent beauty brands.

In 2010, after fifteen years, we jointly made the decision to sell the company. I was keen to get back to my roots in broadcasting; reaching and empowering a larger audience with knowledge in health, nutrition and wellbeing. The last ten years have been spent researching, writing and publicising my books, podcast series and magazine, Liz Earle Wellbeing, as well as founding my charity, LiveTwice, and supporting important projects including Ace Africa, The Prince's Countryside Fund, The Soil Association and CURE, among others.

Of all your successes along the way, what has been your most memorable career moment?

Without a doubt receiving my MBE from the Queen was my proudest and most memorable moment. It was such a "pinch me" moment! Aside from my MBE some of my most memorable moments have been the poignant conversations with the women that make up my audience. Hearing their stories and knowing that my efforts have, in some small way, positively impacted upon their lives is incredibly satisfying and humbling.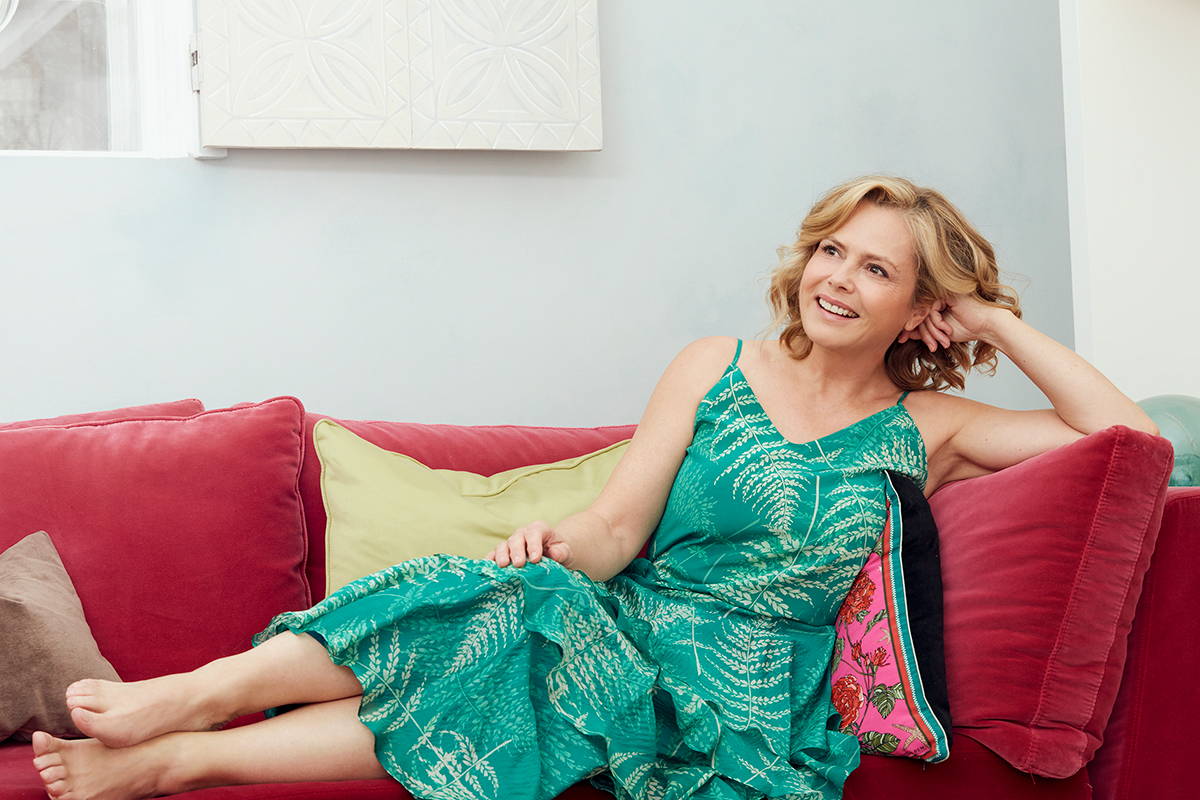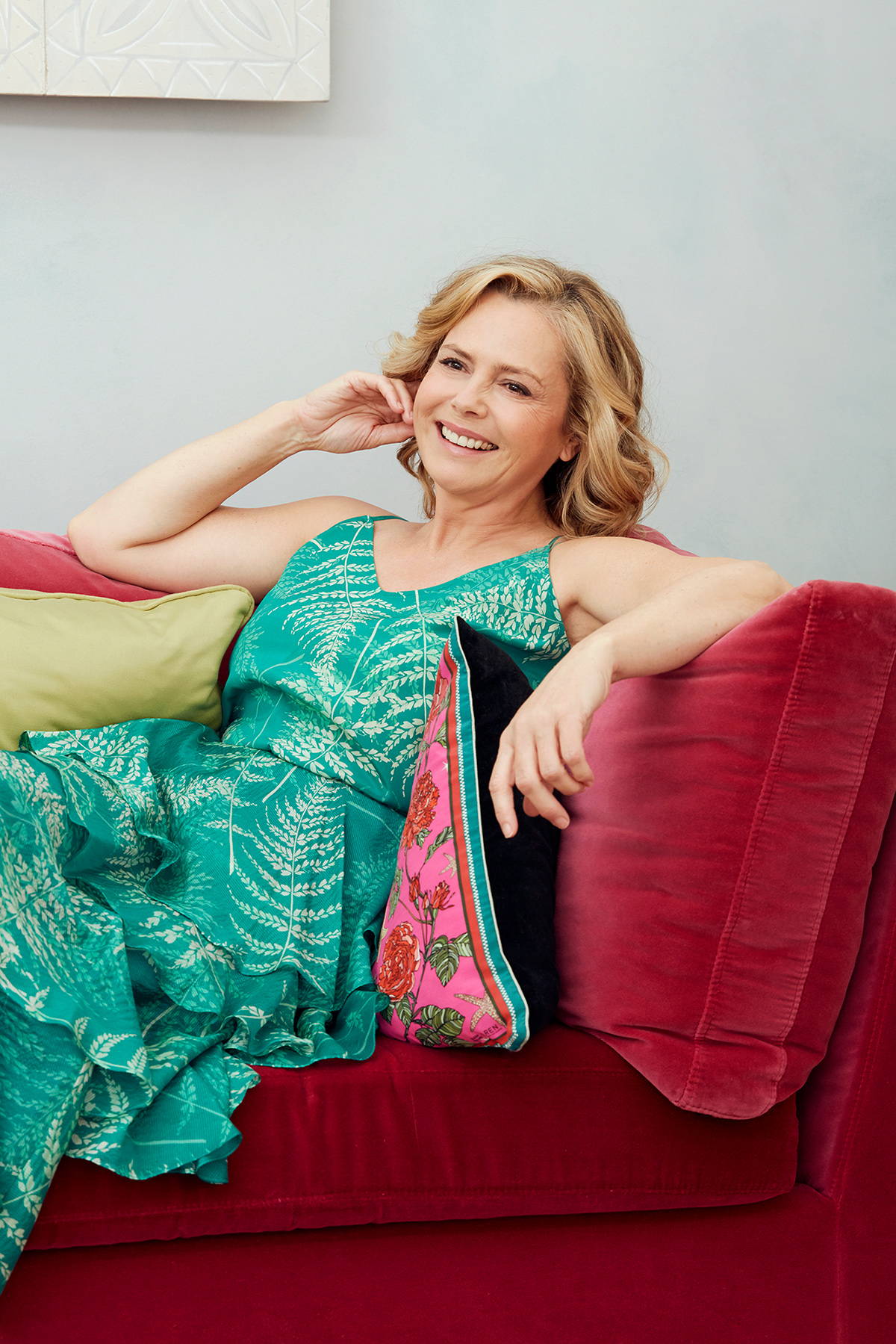 What would you most like to be remembered for?

I'd like to be remembered for making a difference.
You have achieved so much whilst also raising your five children. With such pressure on women to 'have it all' and to strike 'balance' between work and home, what is your advice for those in our community who want to pursue a career as well as have children?

The first thing to share is that my children are very spread out in age; I have two in their twenties, two teenagers and my youngest son who is about to turn ten. The career I have had would likely not have been possible had I had them all in a row! I am lucky that my older children are hugely supportive with the younger ones. They're involved in everything from baby-sitting and helping to cook to giving great advice and being wonderful role models for their younger siblings. It's a real blessing to have been able to focus on my career by having the support of my children.
I'm often asked the question "can you have it all"? My answer to that is "what is your all?". My ambitions in life are to be healthy and happy and to bring up a healthy and happy family and team and that's what drives me every day. It's essential to get to the bottom of what's important to you and make that the priority.

Having a sense of humour helps. Over the years I have learnt not to take myself so seriously and to laugh a lot more. My best advice is to know that things will inevitably go wrong along the way. Everything won't be perfect all of the time, but what's important is to keep perspective. As long as things are mostly right, most of the time, then I'm happy.

What are the wellbeing practices or rituals that have helped you to stay on top of your game?

Firstly, having a healthy microbiome is vital for physical and mental health. The brain and the gut are connected via the vagus nerve - the biggest nerve in the body - so it's really important to make sure we're eating the right foods to balance our mental health and our immunity.
I wrote one of the very first books on gut health several years ago and I absolutely live by the practices I share in the book. What's great is that the focus with gut health isn't giving things up, but instead, adding more of the good stuff in. Incorporating "the Five K's" into my diet everyday has been an important change for me in recent years and one from which I have seen real benefit to my overall health. These are; Kombucha, Kefir, Kraut (which I make at home), Kamut (otherwise known as sourdough) and Kimchi. There are millions of beneficial bacteria in just one teaspoon of kimchi, so a little bit every day goes a long way.

Secondly, I try to practice good sleep habits because it is so important for our immunity and mental health. Most experts agree that we need around seven and a half hours of sleep each night and the best way to do that is to make sure that your room is conducive to a long and deep sleep. I have invested in blackout blinds at home and when I travel I take a roll of gaffer tape to stick over LED lights in hotel rooms so that they don't disturb me! I use earplugs to help keep out any noise and I try to resist that late night Instagram scroll. The truth is, the better able we are to sleep the better we are able to cope with whatever life throws at us the next day.

Lastly, I look after my hormones by including lots of healthy fats into my diet. I couldn't recommend this more, particularly as we women get older, looking after our hormones is vital. From aged 40 onwards, our oestrogen levels start to decline and while we might not be aware of the imperceptible change, we might start to feel more anxious, sleep less well, or have achy joints. I meet so many women who have been prescribed antidepressants for low mood and anxiety, but what's actually causing their symptoms is the loss of oestrogen during perimenopause. Over recent years an important part of my work has been sharing the truth about menopause. I feel passionately that it's something we all need to be aware of as replacing our estrogen can with HRT really can transform women's lives.

Who are the women that have inspired you most of all?

I have learnt so much from my eldest daughter, Lily. Wherever she goes, she lights up the room with her amazing sense of lightness and fun. Lily worked with me for a while as my Digital Editor and she helped me to realise that it is possible to work hard and achieve whilst still retaining a sense of lightness. It's been amazing to learn from her over the years.
Another woman that inspires me is the psychotherapist, Julia Samuel, who I recently recorded for an episode on my podcast. Julia has written extensively about the psychology of grief and she's just released a new book called This Too Shall Pass. She set up the Child Bereavement UK and was Chairman of the charity Wellbeing (formerly Birthright) which does a huge amount of amazing work for women. She's incredibly intuitive and forward thinking - I truly admire her.
How does your faith and your values inspire your approach work?

My faith is a fundamental and integral part of me and all the work I do. My whole business is built on trust, integrity and authenticity. Being reliable and trustworthy is a huge part of building a good reputation as a person and as a brand and I find it always pays dividends. Sometimes it's not always the easy route, but really it's the only way.
Similarly to Beulah, when you set up the Liz Earle Beauty Co in 1995, you ensured a charity budget was in place. What was your reason behind incorporating charity into your model?

When Kim and I set out we were determined to do good and give back from day one. When you own a business you have a huge responsibility to consider every element; from where you source your materials, to how you treat the people in your supply chain and then thinking about how you might share some of your profits with causes that are close to your heart. I would hope that the beauty company still has that in place.
When we sold the beauty company in 2010, the first thing I did was set up my charity LiveTwice which was founded with the principle of "love your neighbour". The idea behind the charity was, and still is, to offer opportunity through resources, financial welfare or skills training. Much of our work takes place in East Africa, a place with enormous need and very little opportunity. I feel very fortunate to have been given so many opportunities over the years and it is right to offer new opportunities to others where there is otherwise very little.

What does your typical week look like and how does this influence your personal style?

One of the nice things about growing into middle age is that I know what suits me. I'm more confident than ever in how I dress and how I look. I divide my time between working in my London studio and spending time at home on my West Country farm. When in the city, I tend to wear a uniform of black trousers and longer length, bias-cut skirts, paired with light cotton or silk shirts in the summer and soft cosy knits in the winter. I find three-quarter length sleeves very practical as I spend so much of my time either writing or cooking and I find long sleeves just get in the way! When I'm in the country, I'll often be out in the garden in gumboots and you'll usually find me indoors in comfortable loungewear. I like simple pieces made from fabrics that feel luxurious, such as silks, wools and fine cottons.
Overall I'd say my style is classic with a twist. I'm into investment dressing and always think about cost-per-wear before buying. There are treasured pieces in my wardrobe that I've had for 20 or 30 years. You can't go too far wrong if you buy quality and invest in beautiful timeless pieces.

Of the Beulah pieces you wore today, which was your favourite and how would you style it?

I am in love with the Kashiri Green Fern tiered silk skirt and top. The vibrant colours and botanical print instinctively drew me to it! It's the kind of piece I would wear over and over again. In the winter I would team it with a slouchy polo neck and a pair of boots and I can also imagine wearing it on the beach on the east coast of Kenya for evening cocktails. It's an incredibly versatile two-piece that can be dressed up or down and worn all year round. I can see it at garden parties... or at Henley...it would even look great at a summer festival with a pair of Wellington boots!
Who are your style heros?

Grace Kelly for her elegance and understated style and Pru Leith who I recently recorded a podcast with. Pru arrived a riot of colour in orange, turquoise and red, and she looked just amazing! She exudes charisma and confidence and is a real inspiration for older women in the way she embraces colour.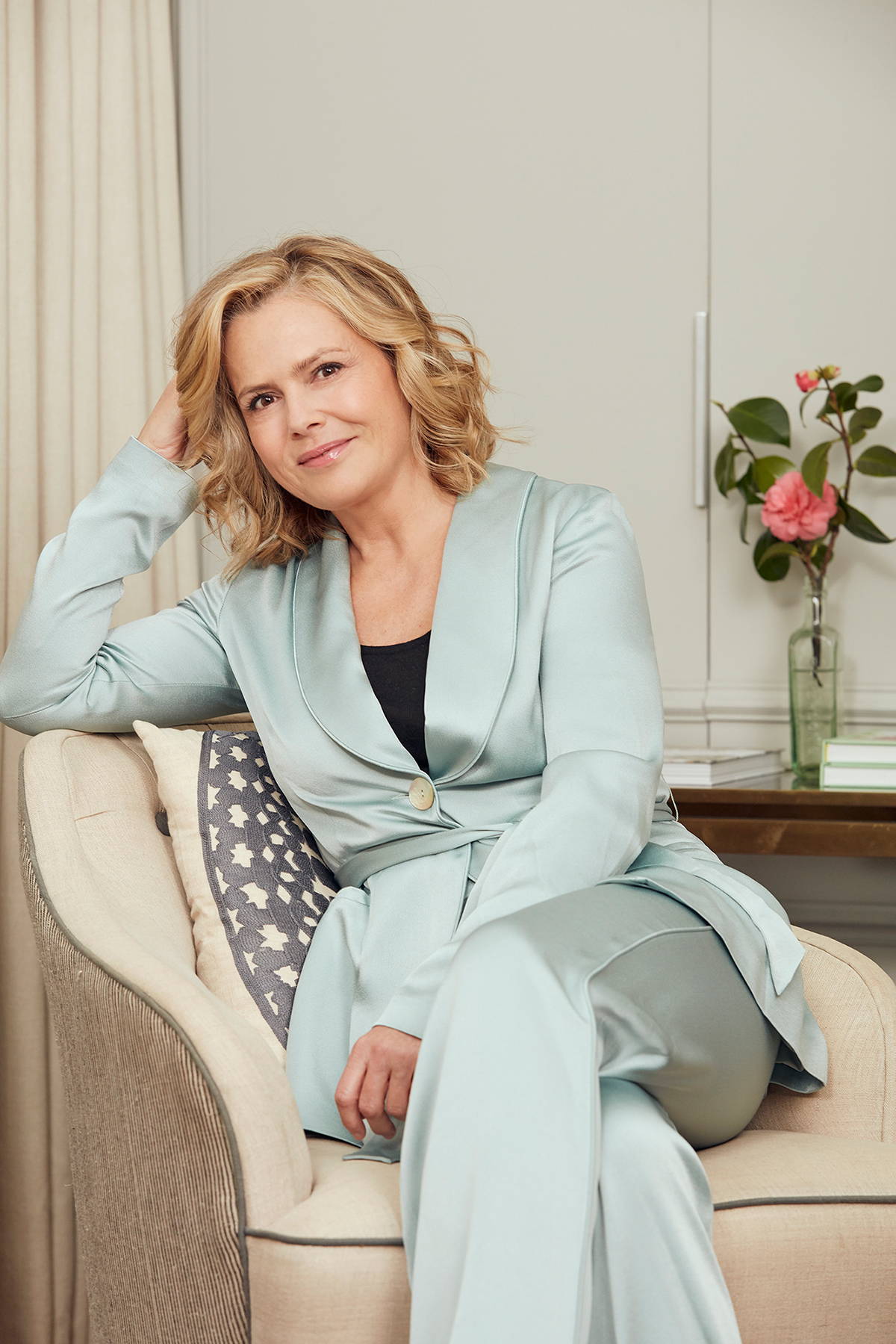 What song or album could be the soundtrack to your life and why?

I love Robbie Williams because he so brilliantly captures life with his lyrics. I never tire of his music!
Which film could you watch over and over again?

To Catch a Thief - I love the old black and white classics.
What is the most-read book on your shelf?

Three men in a boat by Jerome K Jerome.
It's a Victorian classic that my mother used to read to me when I was sick and now I read it to my children which feels very special.
Where is your favourite place to spend time and what makes it special?

Lamu in Kenya. I love the east coast of Africa for its warm people, sandy beaches and its simple way of living. I usually stay at the Peponi, a small family-run hotel, where I have many happy memories from over the years.
What are your three favourite spots in London that you love to visit and take others?

The Chelsea Physic Garden - London's oldest apothecary garden - which has a great cafe. With plants from all over the world it's a great learning resource for me as well as being a nice place to stroll around. It's central but feels like an oasis as soon as you step through the garden door entrance.
Battersea Park with its many unusual trees planted by the Victorians. I often walk or run along the track that runs by the river and love watching the changes to the trees with each season.

I love the Southbank for its vibrancy, particularly in the warmer months when the street sellers set up along the banks of the river. You'll see buskers and artists and it has quite a continental feel to it, surrounded by twinkling lights and iconic buildings.

Finally, what are your top three 'must-do' healthy habits for our readers to incorporate into their lives?

Protect your sleep - work out the strategies that will help you to have good sleep
Look after your gut health - add fermented foods to your diet

Check your hormones - be aware of your need for oestrogen as a woman and whatever you do don't go low fat! Eat plenty of healthy fats to create the building blocks for strong hormones, while steering clear of sugars and refined carbs.

For vulnerable and trafficked women. Our aim is to enable them to live in freedom

We're creating a sustainable, commercial, and creative vehicle that will provide an alternative livelihood to these women. We do this by providing meaningful employment to women who craft our products, and we also donate 10% of our profits to charitable causes.

We are currently working with
Who are joining us in our cause to empower women through the business of fashion.