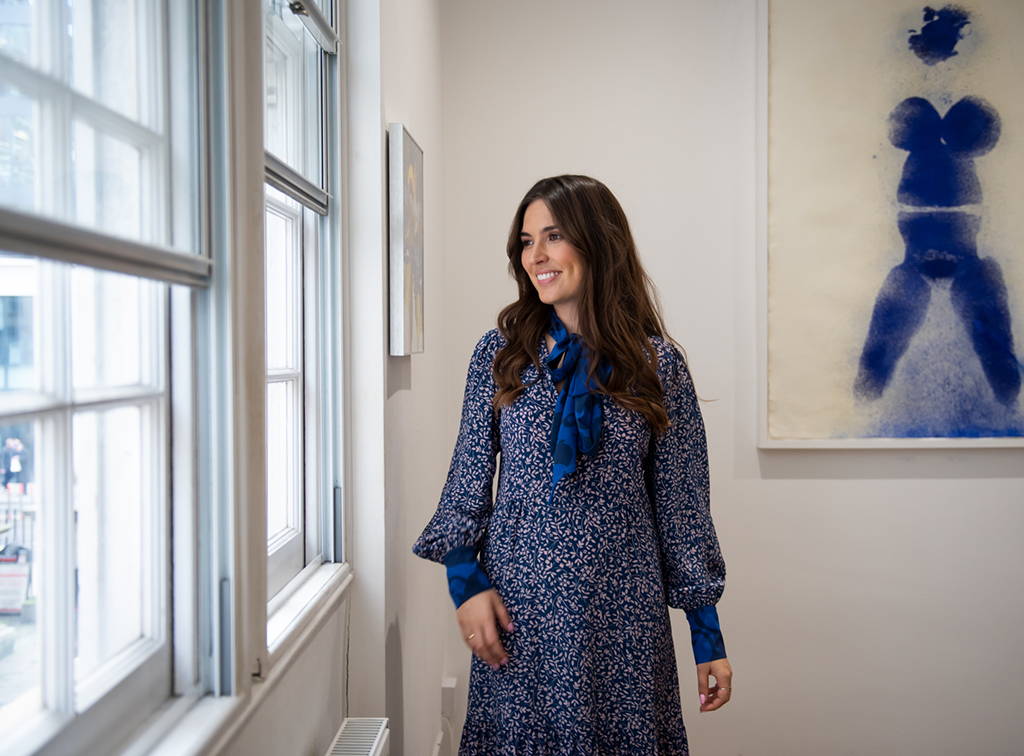 My Week in Beulah
WITH MARINE TANGUY

Since managing her first gallery at the youthful age of 21, Marine Tanguy has opened
her first art gallery in Los Angeles, created her business MTArt Agency, delivered two TEDxTalks
and given birth to her beautiful son Atlas. The Forbes 2018 30 under 30 Europe: Arts & Culture winner
discusses her greatest achievements, how she manages to balance life at home and work,
and how her agency invests in underprivileged artists.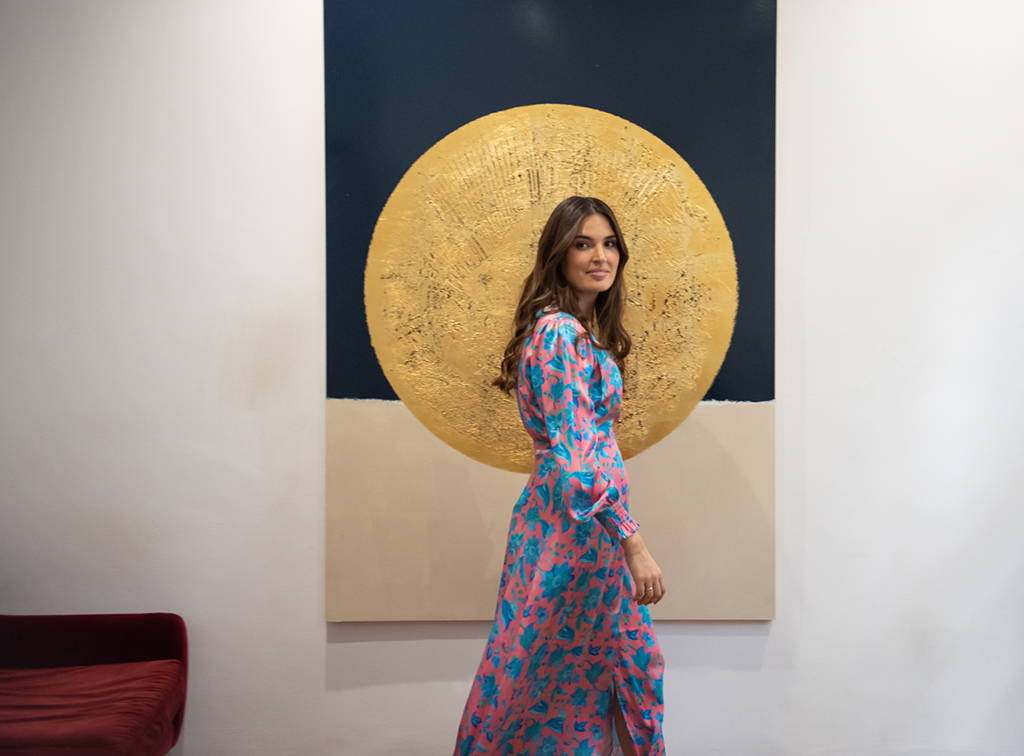 Vineeta Watermelon Wrap Dress
what do you consider your greatest achievement?
This summer, I turned 30, pregnant, running the company of my dreams and with so many friends. I live in Central London, on my favourite street (Museum Street by the British Museum). I have the most supportive of partners and I am right now celebrating the wedding of a dear friend in Jamaica. My life is a dream and while I did wake up at 3am with my

baby Atlas and later ran through my inbox for the sales and partnerships of MTArt Agency that were urgent,
I am grateful everyday to be so lucky.
what is your BIGGEST INSPIRATION AND WHY?
I think you can learn from everyone and I try to, daily. I am like a sponge!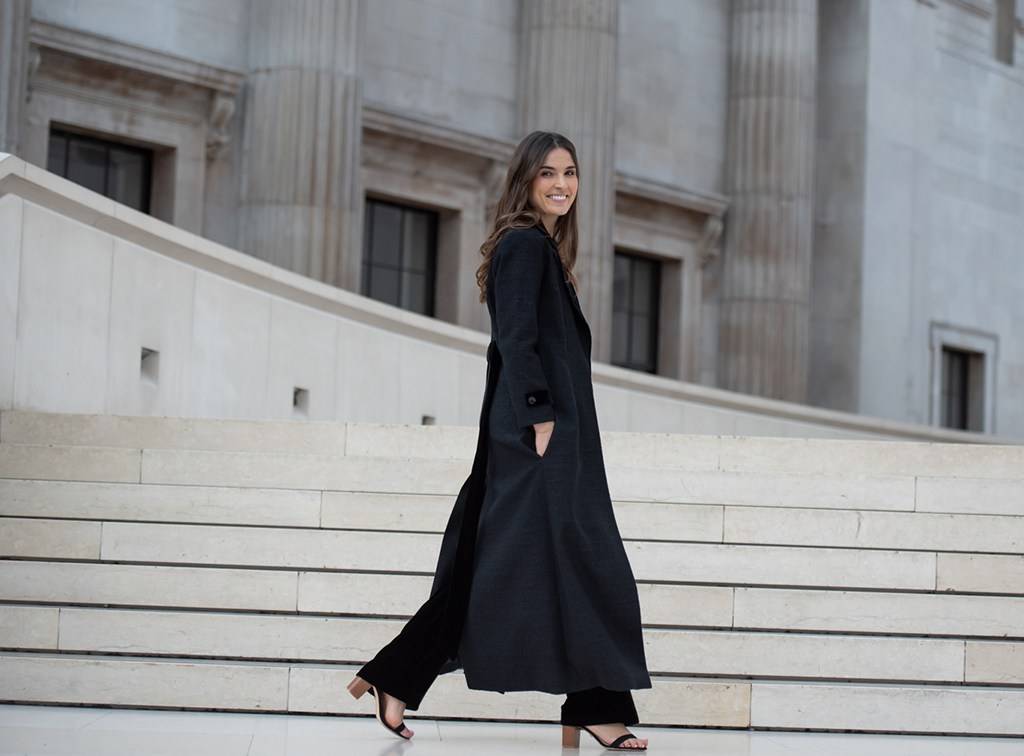 What gets you up in the morning?

Given that Atlas is 3 months old, he does wake me up :). But the reason I smile, it is
because I believe in the artists we support at MTArt Agency, I love working with them
and I also can see that we are making a change in our sector.

Congratulations on the birth of your son Atlas! How are you finding juggling motherhood and being an entrepreneur?

My secret is my partner, William Mcquillan, who, since we have been together, has
always been 50/50 on everything.This makes a huge difference to a woman and meant that I
could continue working at the same level after giving birth. I also find that a baby is similar
to a company, there are many crisis and no plan daily, you just got to ride it with grace and a few jokes.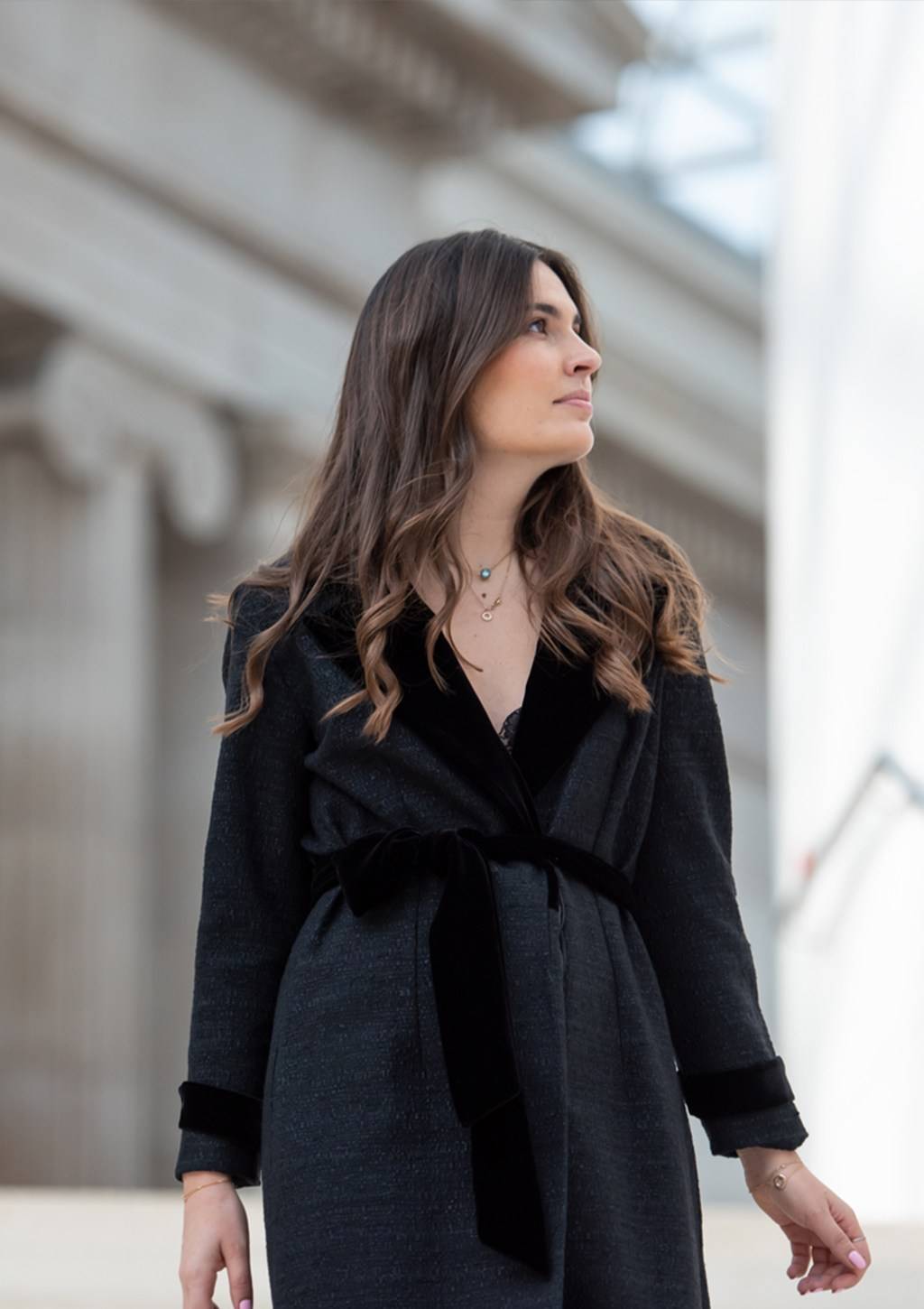 Harita Tailored Velvet & Tweed Coat


how do you manage to get a balance of home and work life?
I don't have a division, they are both integrated. Some of my clients
have also become dear friends and vice versa so realistically, we are all
just a group of people who love what they do.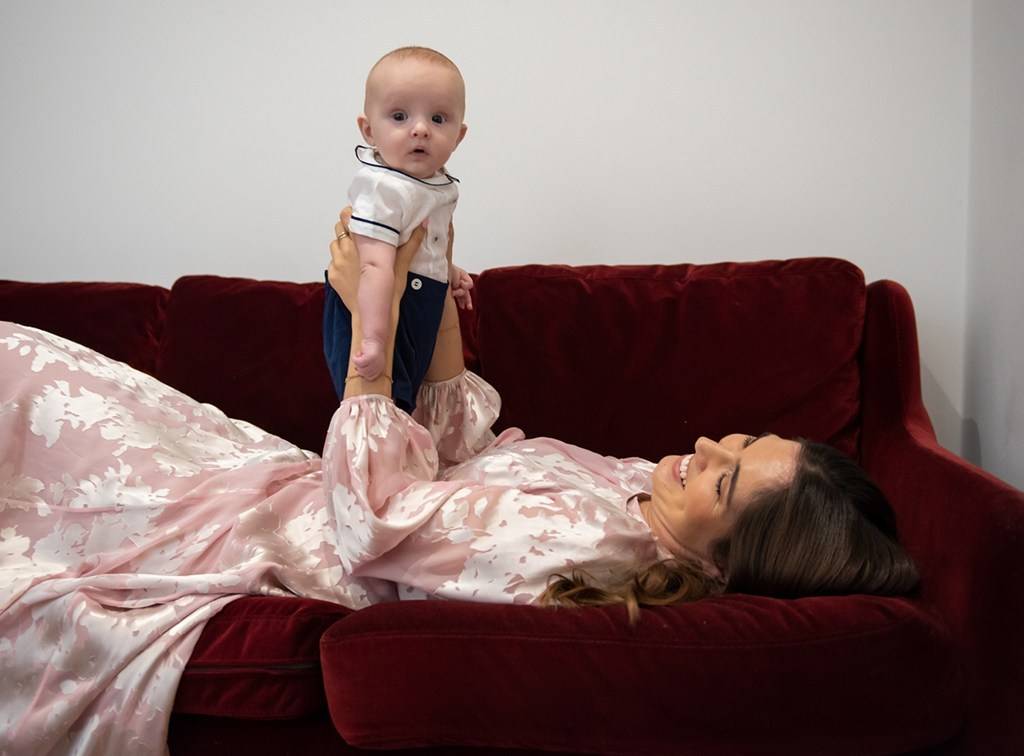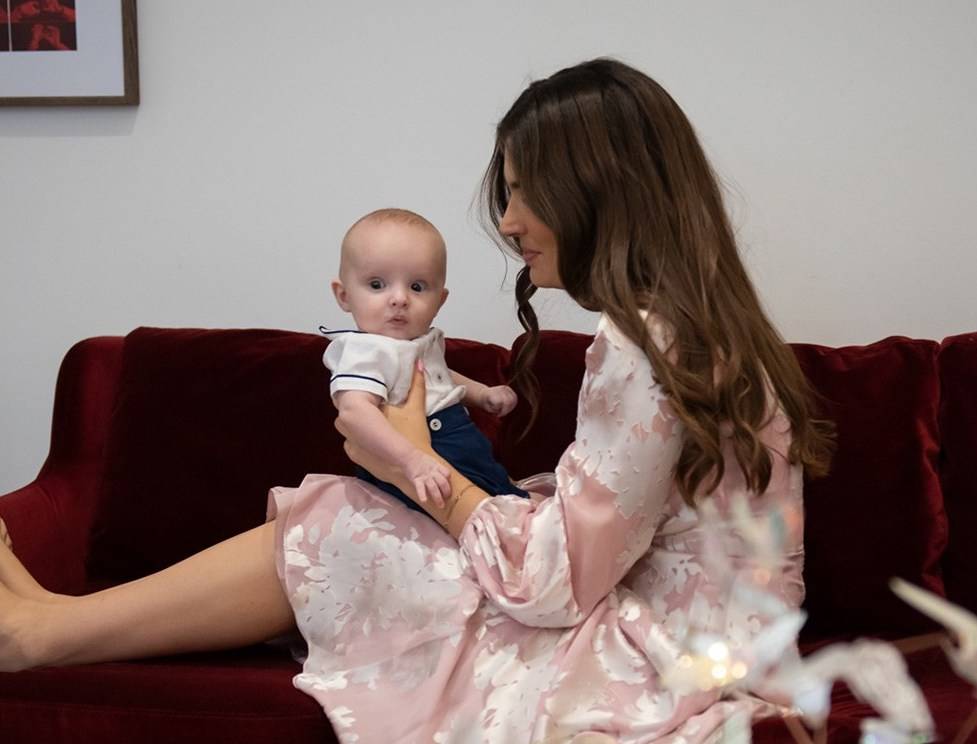 Tell us more about how your agency invests in underprivileged artists? How did your passion to help these people come about?

90% of art professionals have once been asked to work for free in my sector while being
an artist in London is incredibly expensive, yet this is where most of the opportunities are. What this means
is that my industry isn't about who is most talented but who can afford it instead. I am a sucker for talented
people and I wanted this to be fair, if you are talented, you deserve an access and support in my sector. This is
why we financed our artists monthly and offer support so that we can see the most talented ones rise to the
top without worrying about whether or not they can afford it. The fact that my company is fast growing
economically means that we can generate this social change as we pay our interns, our artists and our employees well.
I have always believed that a world with visually inspiring content was vital.
This became the subject of my two TED talks:




How would you describe your personal style?

Romantic, graceful and with a lot of colours. The world is already a tough place, you need to elevate it.

What is your favourite piece in the Beulah AW19 collection?

The Sonia dress in Blush. I am wearing it to a wedding tomorrow evening.
I feel like a dream every time I wear it.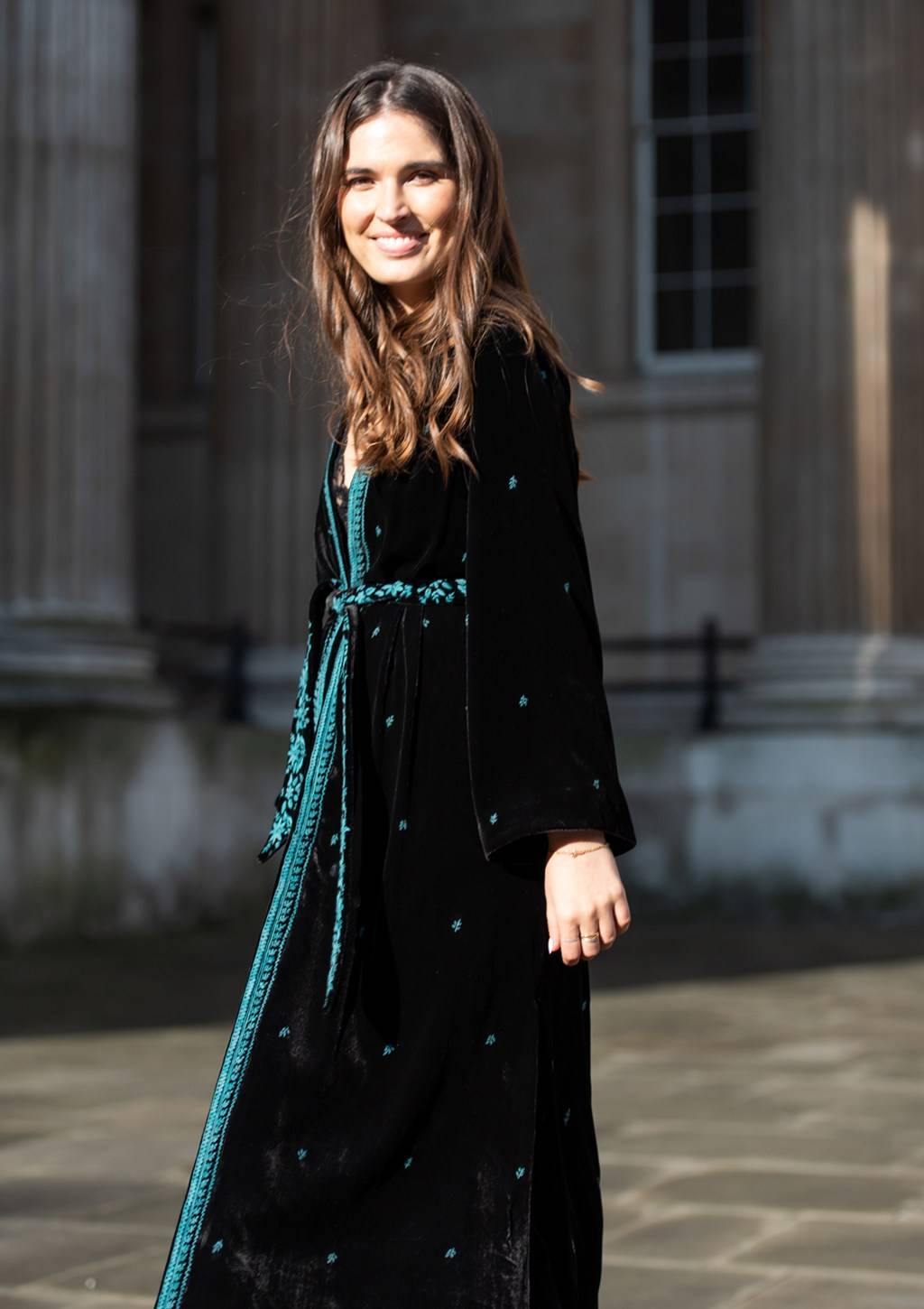 Amma Velvet Embroidered Kimono


How do you celebrate women in your life?


I tend to help women a little more than men, i.e make more introductions and be more collaborative.
We need many of us at the top and there is space for everyone.
I also give many hugs and flowers along the way 🙂

What do you do to feel empowered?
I am lucky to afford to be who I am all the time, without people asking me to change anything.
This is very empowering. And I like being me, it's not perfect but it's an exciting journey!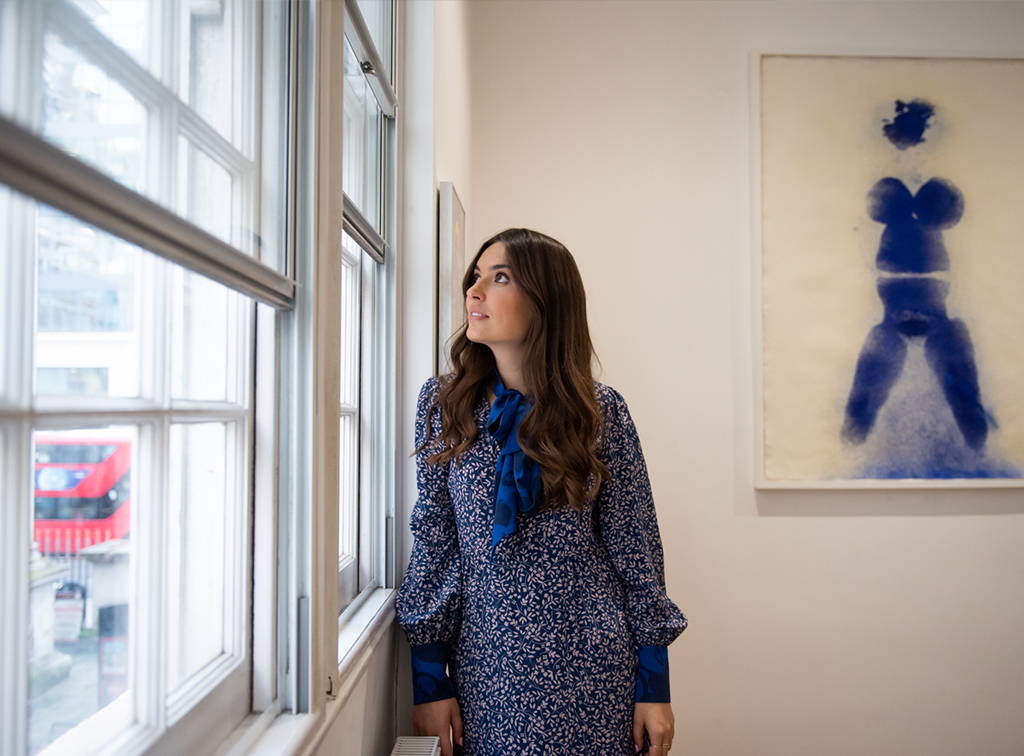 What particularly inspires you about Beulah's social impact mission?
I feel that all brands shall follow the lead of Beulah. Business isn't just about making money, it's about bringing your vision and values to the world.
What you wear is what you are and your values shall show in the clothes that you love. I can't
imagine what it must feel to go through what these women have to go through.
I love the Beulah mission.

Follow Marine on Instagram and see more of her work at MTArt.agency

For vulnerable and trafficked women. Our aim is to enable them to live in freedom

We're creating a sustainable, commercial, and creative vehicle that will provide an alternative livelihood to these women. We do this by providing meaningful employment to women who craft our products, and we also donate 10% of our profits to charitable causes.

We are currently working with
Who are joining us in our cause to empower women through the business of fashion.