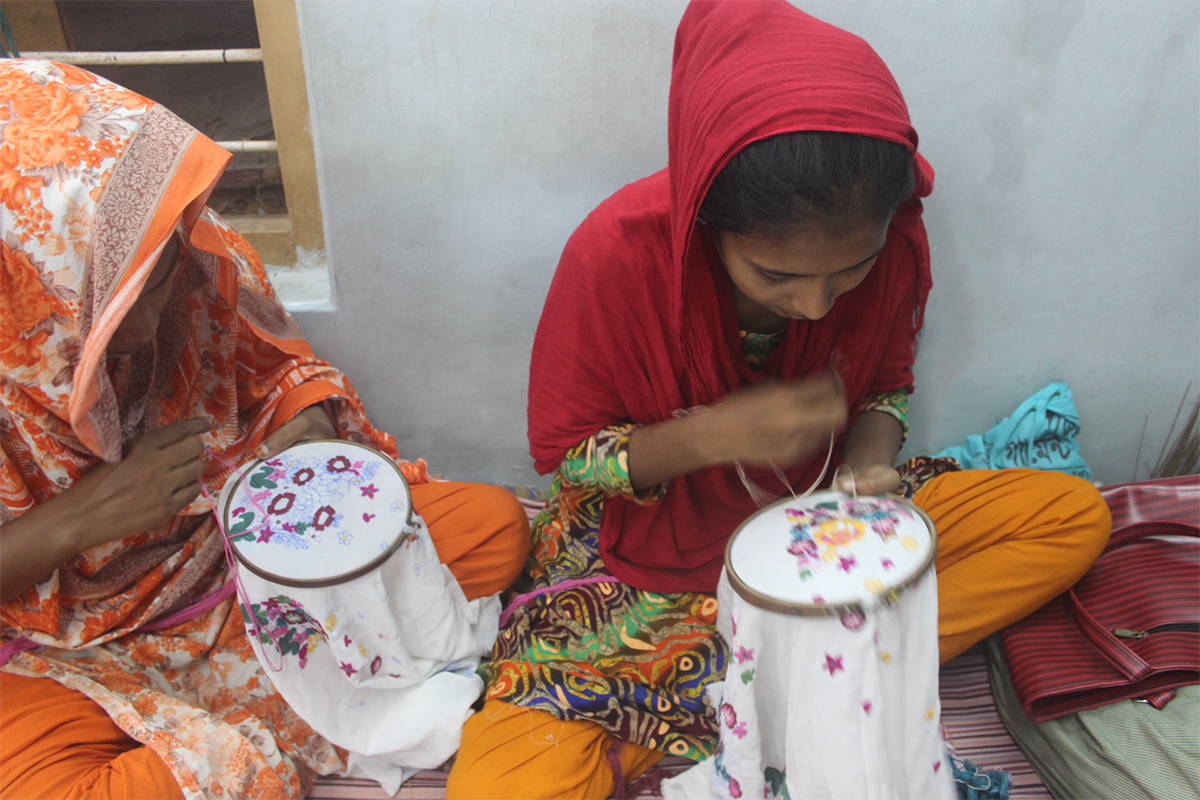 THANAPARA SWALLOWS
An oasis of hope for widowed women and victims of
domestic abuse in rural Bangladesh.
Thanapara Swallows is one of the five Impact Partners that Beulah supports and nurtures. The makers at Thanapara Swallows hand-weave and embroider fabrics with bright colours and graphic prints, using techniques that are specific to the region. Here, we share the story of the organisation and talk with facility manager Santo, about the specialist business and skills program empowering vulnerable women to build a sustainable livelihood and a brighter future.an outlet for the Foundation's sustainable fashion accessories.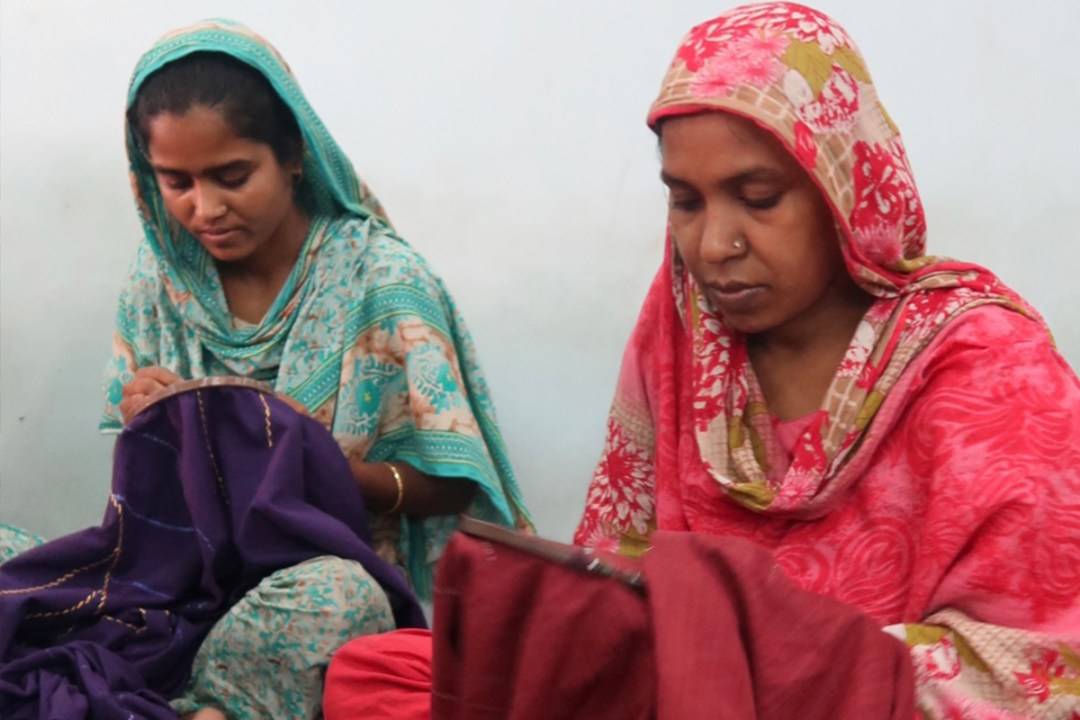 The idyllic setting of Thanapara – a small village on the banks of the river Ganges in north west Bangladesh – sits in direct contrast with its harrowing history.The quiet and peaceful village was devastated in a massacre in 1971 when the Pakistani rebels invaded the village and killed all but 2 of the 100 men living in the village. As was tradition, the men farmed the land to earn an income, whilst the women looked after the home and the family. With the destruction of the men, the families in the village faced destitution and hopelessness.After hearing about this atrocity and the desperation of the survivors, "The Swallows", a Swedish organisation, came to the aid of the people of Thanapara, providing basic food, clothing and aid.Conversations with local women revealed that after immediate aid, the local women wanted an opportunity to be employed, to earn an income, support and sustain their families and communities.As a result, Swallows set up a vocational training program to teach women skills, such as hand-weaving, dying and embroidery with which they could make crafts to sell and start to generate an income. This sustainable employment empowered the local women and supported them to gain and maintain their independence.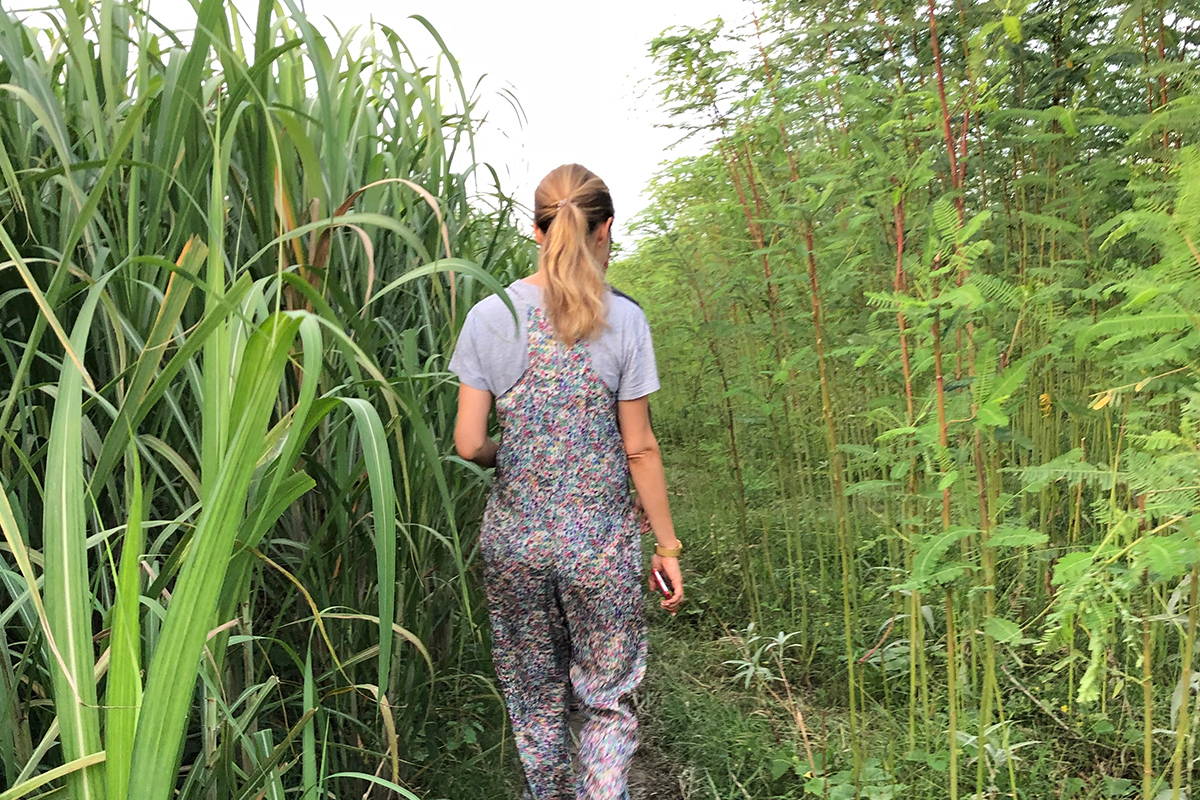 Now a fully independent NGO run by the local community, Thanapara Swallows now employs over 250 permanent artisans who produce textile products using local materials and organic, naturally dyed hand spun cotton. Part of the facility is home to a day-centre for the children of trainees, producers and staff to enable parents to earn a wage.Using income from this activity, the organisation works towards achieving positive outcomes related to health, education and women's rights. 285 children receive an education at the campus school and schooling outposts have been set up which educate over 1000 children from all the neighbouring villages but who live too far too travel.The women that Swallows supports are marginalised and vulnerable; divorced, widowed, victims of domestic violence, from ethnic communities and economically insecure. Aside from providing sustained employment, it is a place in which the women seek support and solace.Thanapara support women emotionally and financially if they're in a dangerous marriage or facing difficulty. They also offer education around the law and domestic violence which teaches women their rights and where to go if they need assistance. For those facing immediate risk, Thanapara provides shelter and food for free for five days.The business program is contained within a cluster of modest buildings that provide space for fabric weaving, hand embroidery and sewing. Upon entering the facility, we're met by the warm smiles of women, either sitting in circles sharing stories whilst they sew, or at their weaving looms, deep in concentration in their intricate craft. Each piece is unique as the handcrafted nature of the embroidery allows for slight variations, adding to their spontaneous beauty. Reams of brightly coloured and patterned fabric are neatly folded and stacked, line the walls of the building, forming a bright backdrop to the women's work.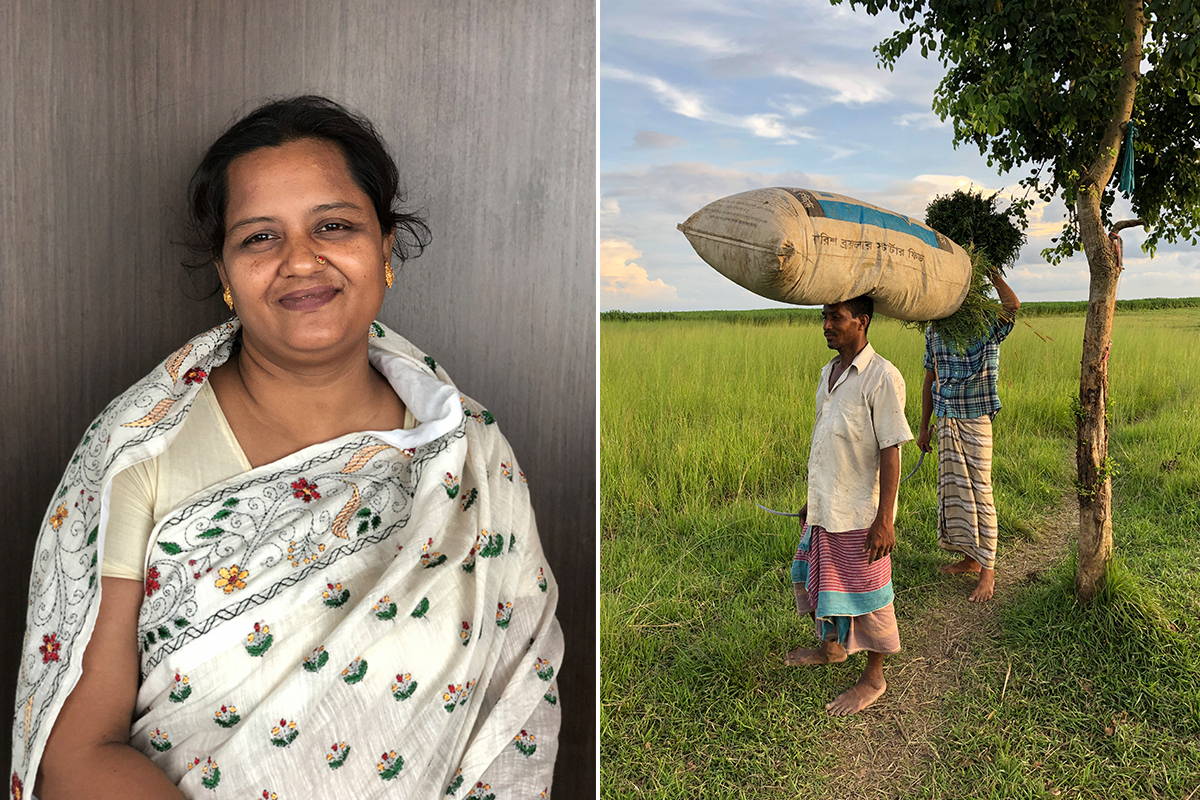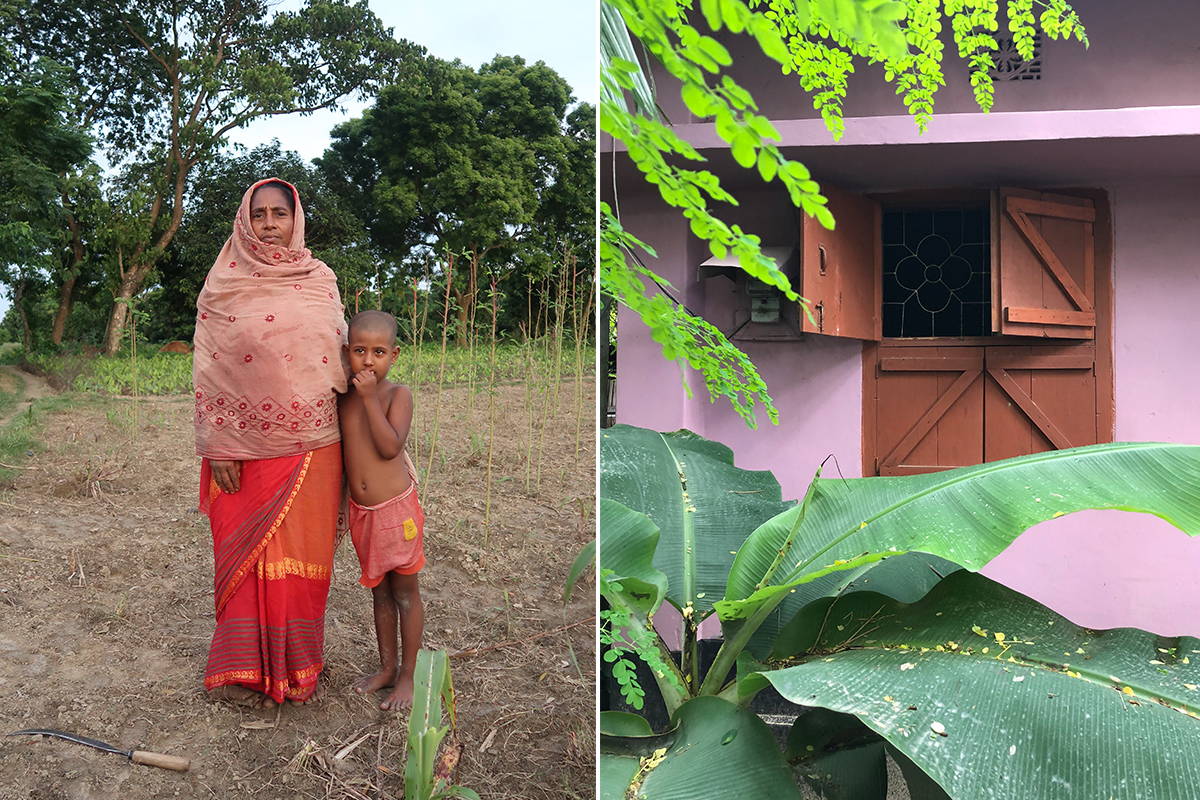 When we first visited, we were amazed by the highly skilled techniques and hand crafted processes that go into each piece made. Since that first visit, we've been proudly working with Thanapara Swallows, incorporating the weaving and hand-embroidery skills of the women artisans into our collections. 28 women work on our commissions which provide an average of 3-4 months work per season.For facility manager, Santo, upskilling in this way plays an important role in rebuilding the confidence of the women.

Through the generous support of our customers, the Beulah Trust – which sees 10% of our profits donated to charitable causes – have made a grant to Thanapara Swallows which will fund the training of 30 more local women in embroidery. The grant will also go towards the installation of a screen printing machine and cover the cost of a trainer to upskill five women with this specialist skill over a two month period.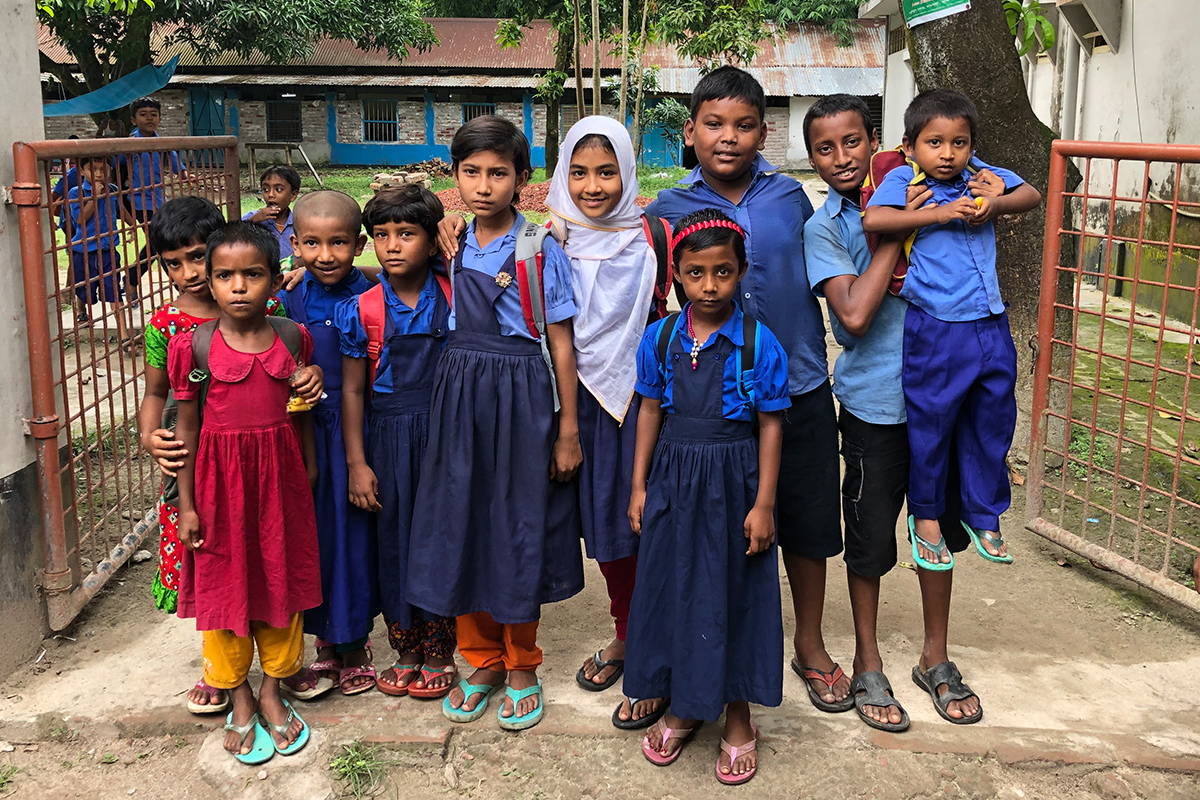 We donate 10% of all of our profits to charitable causes and by purchasing one of our Freedom Designs, you'll directly support this organisation and its women to earn a fair wage and support herself and her family. You can also make a donation to The Beulah Trust which supports Thanapara Swallows alongside our other Impact Partners.

For vulnerable and trafficked women. Our aim is to enable them to live in freedom

We're creating a sustainable, commercial, and creative vehicle that will provide an alternative livelihood to these women. We do this by providing meaningful employment to women who craft our products, and we also donate 10% of our profits to charitable causes.

We are currently working with
Who are joining us in our cause to empower women through the business of fashion.